College basketball betting works the same way as betting on most sports. But before you dive right into betting on college hoops action, there are a couple of things you need to be aware of. 
First, you need to understand the betting options and markets available for the sport and how the odds work. Additionally, you need to know the different factors to consider when predicting a college basketball game outcome.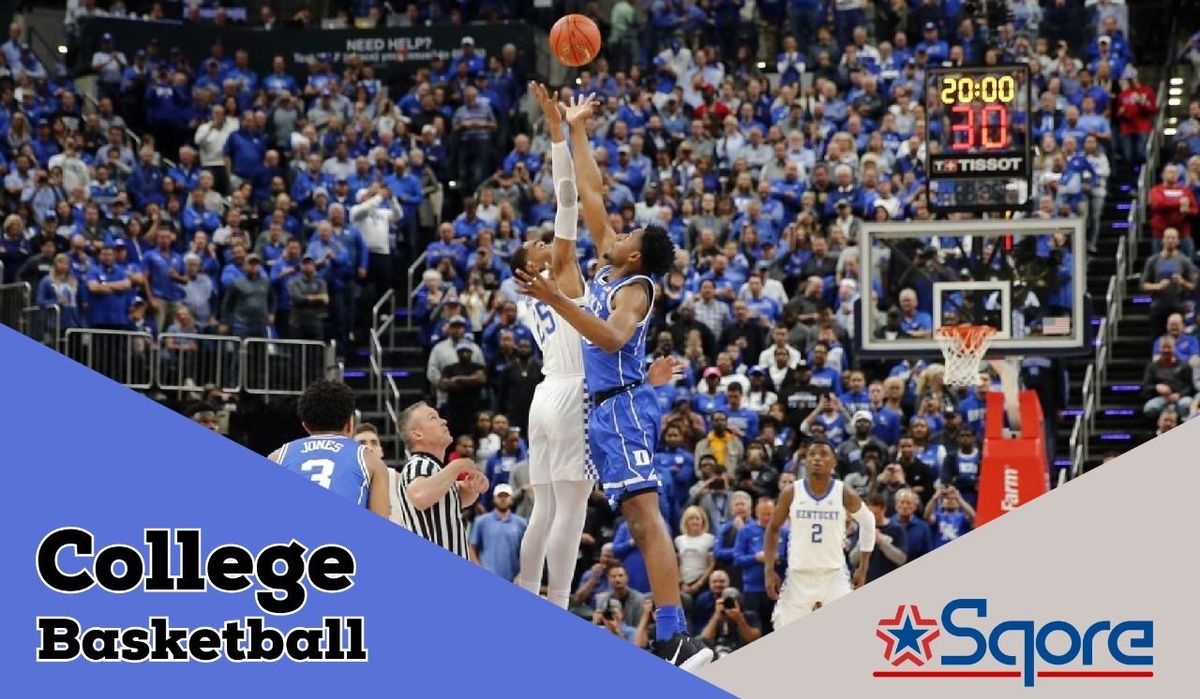 As a bettor, to make the most of your college basketball betting experience, you must know the right kind of bets to place and when to place those bets. 
First, start by choosing a top online sports betting site that is trusted and licensed, such as those we recommend here at Sqore. The good thing about playing at regulated sportsbooks is that they have a wide range of betting markets and options. Besides that, they offer incredible bonuses and promotions such as welcome bonuses, free bets, and loyalty rewards. They are also required to provide security when it comes to your personal information and funds.
Below, we will discuss some of the betting markets available in college basketball to use at those sportsbooks.
Moneyline Bet
With moneyline betting, you are simply wagering your money on a particular team to win a game. The moneyline bet is the most common betting option available in college basketball. This bet typically applies to both regulation and overtime periods in a game, as the team that has won when the final buzzer sounds is the winner in this market.
Point Spread Bet
Also referred to as handicap betting, the point spread is another betting market available at top sportsbooks for college basketball. In this market, sportsbooks give a team a positive or negative handicap to balance out the chances of each team to come out on top after that handicap is applied. For example, this means that if you bet on a team with a -5.5 point spread to win a game, the team must score at least 6 points more than its opponent for you to win the bet.
Total (Over/Under) Bet
All top sportsbooks in the US, including those we recommend, offer the totals betting market for college basketball games. Here, you are wagering your money on the total number of points that will be scored in that particular contest. You can bet that the points scored by the two teams will be over or under a value specified by the sportsbook before the game starts.
Proposition Bets
Prop betting is a unique betting option that has nothing to do with the outcome of a game. Prop bets are a good option for expert bettors as it gives them a chance to predict events in a college basketball contest without worrying about the final score. For example, you can bet on the first team to score a point in a game or a player to score over or under a certain amount of points.
It is worth noting that some states do not allow prop betting on college sports, while others do. This is something to double check before attempting to place any college basketball bets.
Teasers
For the most part, teasers are similar to parlay bets. However, one significant difference between these two betting options is that teasers allow players to adjust the point spread or total in a favorable direction, though the odds are less generous than parlays as a result. Just like in a parlay, all legs of a teaser have to win for a bettor to cash their ticket.
As with every other sport and league, there are some strategies you can use when betting on NCAA basketball to help boost your chances of winning. In this section, we will discuss some of these strategies and other vital things that can help you enjoy a great experience wagering on college basketball.
Choosing the Right Time to Bet
Timing is everything in sports betting, and college basketball betting is no exception. Picking the best time to make college basketball picks can be the difference between winning and losing a bet, as lines can change constantly based on betting patterns, injury news, and other factors. As a result, bettors have to be vigilant to make sure that they tracking line movements to pick the time to bet on games when they can maximize their profitability.
Future Bets and Live Bets
In addition to pregame betting markets, live betting and futures betting are ways to get involved with college hoops along different time frames. Live or in-play wagers allow bettors to bet on games as they are happening, with odds that are updated as a game is going on. This can open up value betting opportunities that may not have been available before the start of a contest.
Meanwhile, futures bets allow bettors to bet on what they think will happen later in a season, whether that means betting on a team to win something like a conference or national championship. These have the risk of not being the best value, unless you really know where to look when playing longshots in the futures markets. Either way, these bets should be added to a bettor's repertoire to optimize their strategic options.
What to Look for When Betting
In addition to knowledge of the different types of bets available and when to place them, bettors should look at the following factors when deciding who to bet on in this sport.
Current Form: Checking the current form of a college basketball team you want to bet on is vital. This goes well beyond wins and losses, as bettors will want to get to know which teams are shooting the ball well, making free throws, rebounding effectively, and doing other things right leading up to a game.
Home Court Advantage: Although there is a lack of consensus on the value of the home-court advantage in college basketball, it is worth developing an understanding of which teams have a bigger advantage than others. Some teams have better home crowds for their games, while others require travel that makes it tough to play against them. Either way, this is something to get to know.
Rivalry Games: Teams playing against heated rivals make it a lot more difficult for a bettor to predict the outcome of a college basketball game. Crowds are more intense during rivalry games, and players can either respond positively or negatively to the pressure of playing the team they dislike the most. Figuring out how that will impact the outcome is the key.
Statistics and Context: It is one thing to look at the statistics for each team going into a college basketball game. But putting the proper context behind them is vital from a strategy standpoint. Bettors should look at things like a team's strength of schedule and how they fare at home versus on the road. This will help give them a full picture of how a team is truly performing.
Injuries and Player Factors: The injury of a star player on a team can significantly influence the outcome of their games, so you must read team news to stay up-to-date with injury reports and other player issues that can impact a college basketball program's chances of winning.
College Basketball Odds
Odds in basketball work the same way as they do with most sports. The odds let you know how much you can expect to win by placing a particular bet. For example, if you bet on a team with odds of +110, it means that you can expect to win $110 for a $100 bet. However, if the odds are -110, your expected winnings are $100 for a $110 bet.
There are over 360 college basketball teams in the NCAA Division I, and some perform better than others. The performance levels of all teams are taken into account when the college basketball rankings are updated each week of the regular season. There, the top-25 teams in the country are named. And while there is no guarantee that a team with a superior ranking will win each game, the rankings are a good way to get a feel for where teams stand during the year.
Bettors should be sure to keep an eye on which teams are ranked and which are not throughout the season, and how they perform as a favorite or underdog when they are ranked or facing ranked teams. This can be valuable information for additional college basketball wagers, and in the NCAA Tournament.
The NCAA Basketball game schedule is straightforward. Division I features over 360 schools. Most of these schools are divided into conferences, and teams in each conference get to play each other in the regular season. Over the course of the year, teams play somewhere around 30 regular season games, before competing in their respective conference tournaments. There are also non-conference games played early in the college basketball season to help teams sharpen their games before facing their conference foes.
NCAA Basketball Tournament
Often referred to as NCAA March Madness, the NCAA Tournament is a single-elimination tournament where the National Champion is decided. The tournament features 68 college basketball teams. This includes champions from the 32 Division I conferences and 36 teams chosen by the selection committee. 
The teams are then divided into four regions, each quarter of the bracket consisting of 16 teams. Each team is seeded within its bracket from 1 to 16, with the one-seeds being the best team in each section and the 16-seeds being perceived as the worst. The tournament starts with the First Four Round, where four teams will be eliminated. This round sees a matchup of the lowest-seeded automatic qualifiers from the conferences and the four lowest ranked teams chosen by the selection committee. The losers of those games are eliminated. From there, a 64-team single elimination tournament plays out to crown a champion. This typically takes place from mid-March to early April.
NCAA Basketball has been in existence since 1939, and Oregon was the winner of the first NCAA tournament. There were only eight teams in the competition, and it was not as prestigious as the National Invitation Tournament (NIT) at the time. However, as time went on and the sport evolved, NCAA Tournament play became more popular. By 1975, the number of teams playing in the competition had increased to 32. In 2011, the field expanded to the 68 teams we see today.
1939 - The NCAA Tournament was founded
1975 - The number of teams participating in the tournament increased to 32
2011 - The number of teams increased to 68
2020 - Competition canceled due to Covid-19 fears
2021 - Competition was held in a single state, Indiana, with a limited audience.
2022 - Tournament returned to normal multi-site format