Betting on NCAA baseball games can sometimes be challenging, especially if you have no idea what to look for. With several conference and non-conference games played each season, there are numerous teams you can choose to bet on. Besides that, top online sports betting sites in the US, like those we recommend, offer a wide range of betting markets and options to select from.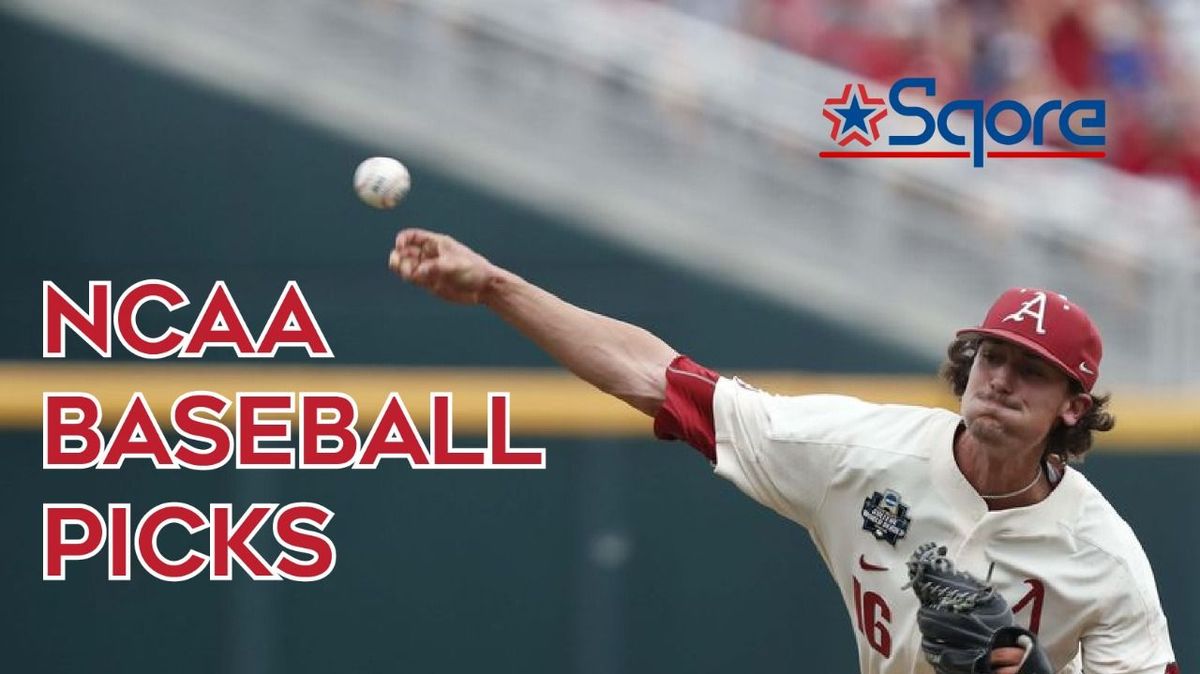 With this much information to sift, it may be challenging to know the best bet to place. However, at Sqore, we've got you covered. We sort through all the essential information to identify the best picks with the highest winning potential each week. Our expert tipsters focus on anything NCAA Baseball, whether regular conference games or college world series. 
We also break down games and show you stats and analysis to help you understand why we believe a particular outcome is more likely than the others.
Remember to always check back for our winning weekly free picks and predictions for NCAA baseball and other sports.
Moneyline Betting
Moneyline betting is probably the most common betting market for NCAA baseball in the US. This betting option involves predicting a team to win a match. However, when placing a Moneyline bet on any team, you want to be sure it has the potential to win. While it is common for most bettors to go for Favorites vs. Underdog games, the favorite team does not win all the time. 
At Sqore, we consider factors like fatigue, rivalry, pitch conditions, injuries, team news, and so on before deciding that a particular team has a higher chance of winning an encounter. Besides that, we also watch out for Moneyline bet with value. Betting on a favorite team against an underdog often has lower odds, which may not provide good value for your stake.
Point Spread Betting
Betting on the point spread is also common in college baseball. The point spread is a positive or negative advantage that online sportsbooks give a team to help bettors balance the odds. If you are new to betting on sports, this option can be pretty tricky. However, the way it works is pretty straightforward. 
For example, if you bet on a particular team with a negative point spread of -5 in an MLB or college baseball game, such a team has to score at least 6 points more than its opponent for you to win the bet. However, if it is a positive point spread of +5, you still win the bet even if the team loses with up to 4 points difference.
Since this betting option is popular in collegiate baseball events, you can count on us to give you the best picks for them.
Totals Under/Over Betting
Betting on totals points is available in most sports, including baseball. In this option, you are wagering on the total runs that will be scored in a game. Sportsbooks set a specific number of runs, and you can bet whether the teams will score above or below it. For example, you can wager your money on a particular College World Series Tournament game to be over 8 runs. 
You will win the bet as long as the total runs scored is at least 9. However, if the final score does hit 8, your bet will be returned. If it is less, you lose. Most online sports betting sites also allow players to bet on the number of runs that will be scored by a single team in a game. This means you can bet on home runs only without having to worry about the opposing team.
At Sqore, we consider factors such as the points per play and the offensive and defensive efficiency of teams before predicting totals under/over bets. Teams with a great offense and a knack for timely hits are good to watch out for when analyzing this kind of bet.
Betting on College Baseball Players
Apart from the regular bets, online sports betting sites also allow punters to bet on individual players. For instance, you can wager your money on Kumar Rocker to be the best pitcher of the season. You can also bet on who will win the MVP award in a conference or the College World Series. 
Just as we analyze the statistics of teams to provide the best predictions, we also check and analyze the performance of some individual players to know their impact on a team.
Unlike some prediction sites that only provide picks to premium players, at Sqore, we provide free picks for college baseball games. Our free tips are not limited to only conference games; we also cover non-conference games and the college world series. 
Our game breakdowns and analysis will cover the whole of NCAA baseball, from the kickoff of the new season of conference games in February 2023 to the end. We will provide free picks for most conferences, whether the Big Ten, Big 12, SEC, or ACC.
Combine today's NCAA baseball pick with a sportsbook promo. Doing so will maximize your value. Check the link below for an up-to-date NCAA Baseball promo guide.
It is the dream of every college baseball team to win the College World Series (CWS) tournament. The postseason tournament features 64 teams in the first round, which are split into brackets of four teams and play against each other in a double-elimination format. The last two teams that remain then play three games in the final. 
The winner of the best of three games is crowned the champion of the tournament. Mississippi State is the current national champion, defeating The Commodores in the final at Omaha, Nebraska. Participants of the CWS championship include winners of each conference, with the selection committee filling the remaining slots. 
The 2021 College World Series started on the 19th of June, with the first game played at TD Ameritrade Park in Omaha, Nebraska. The tournament was aired on the ESPN sports network, so bettors can catch all the action.
Our expert tipsters stay on top of all the events in the college world series. They consider all important information about each team and their players. This enables us to offer the best picks, and we have a high success rate. We also offer free tips for the CWS tournament. 
Once the selection committee drafts the teams to feature in the tournament and releases the schedule, you can count on us to start providing you with winning picks. You can also take advantage of special prop bets, such as predicting who will win the tournament. These bets have more value and can increase your potential returns massively.
Checking the NCAA baseball rankings can help bettors understand how each team performs. With the ranking information, you will have an idea of what to expect from the top teams. For instance, Vanderbilt, the 2019 CWS champion and one of the highest-ranking teams, was tipped to make it a long way in the 2021 CWS tournament. 
With their star player Jack Leiter, who is also the 2021 CWS MVP award winner, the Commodores reached the final. However, they lost to Mississippi State and were unable to defend their title. Below is the D1Baseball Top 10 Ranking according to NCAA.
Mississippi State 50-18
Vanderbilt 49-18
Texas Longhorns 50-17
North Carolina State 37-19
Arkansas 50-13
Tennessee 50-18
Arizona 45-18
Stanford 39-17
Virginia 36-27
Notre Dame 34-13
The Major League Baseball draft is a mechanism used to assign college and high school players to an MLB team. Some sportsbooks allow players to bet on the draft. You can predict which player will join which team and wager money on it. 
With our analysis, breakdowns, and information, you can find this kind of betting to be a good choice. Our experts analyze teams, identifying their start players and how they impact their teams.
The Best Picks Beyond College Baseball
At Sqore, we go beyond offering picks for only college baseball. Our predictions cover everything about NCAA baseball, from conference games and non-conference games to the college world series. In addition, we offer a detailed analysis of each event, considering statistics, current form, injuries, pitch condition, weather condition, and so much more. 
This way, our experts are able to find the right and best picks for each event. We post our picks days before the event so you can have all the time you need to compare them with your own analysis. With our tips and predictions, you can be sure not to chase a losing streak. In addition, we give you helpful information and strategies that can help you become a better bettor.
Check our site regularly to stay updated with the latest NCAA events and winning tips for college baseball. We also provide tips for other NCAA sports, including NCAA hockey, NCAA football, and NCAA basketball.