Where Is PointsBet Legal? All Available U.S. States in 2023
April 25, 2023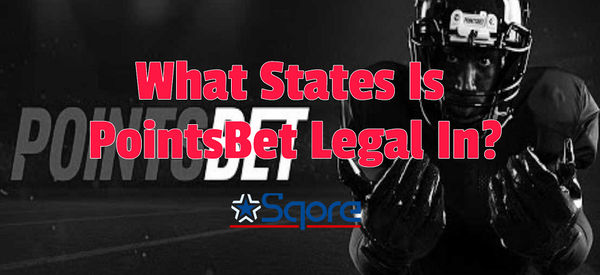 PointsBet, an Australian-based sportsbook founded in 2015, is one of the fastest-growing online betting platforms in the United States. Best known for its unique and proprietary form of sports wagering known as PointsBetting, PointsBet Sportsbook is now available to sports betting enthusiasts all over the country.
Are you interested in finding out if PointsBet has launched in your state? Do you want to know where the online sportsbook will become available next? Would you like to know more about the advantages and disadvantages of this particular betting site? If you answered yes to any of these questions, this guide will help you find the answers you're looking for and much more!
PointsBet Sportsbook & Casino: All Legal U.S. States
PointsBet Sportsbook has entered new markets all over the country since it first launched in the United States in January 2019. Provided below is a full list of U.S. states where PointsBet is licensed and operating.
| | | | | |
| --- | --- | --- | --- | --- |
| State | PointsBet Sportsbook | Launch Date | Retail/Licensing Partner | PointsBet Online Casino |
| Colorado | ✅ | November 2020 | Double Eagle Hotel & Casino | ❌ |
| Illinois | ✅ | September 2020 | Hawthorne Race Course | ❌ |
| Indiana | ✅ | March 2020 | Hollywood Casino | ❌ |
| Iowa | ✅ | November 2019 | Catfish Bend Casino | ❌ |
| Kansas | ✅ | September 2022 | Kansas Crossing Casino & Hotel | ❌ |
| Louisiana | ✅ | September 2022 | Boomtown Casino & Hotel | ❌ |
| Maryland | ✅ | November 2022 | Riverboat on the Potomac | ❌ |
| Michigan | ✅ | January 2021 | Northern Waters Casino Resort | ❌ |
| New Jersey | ✅ | January 2019 | Meadowlands Racing & Entertainment | ✅ |
| New York | ✅ | January 2022 | N/A | ❌ |
| Ohio | ✅ | January 2023 | Hollywood Gaming at Mahoning Valley Race Course | ❌ |
| Pennsylvania | ✅ | February 2022 | Hollywood Casino at Penn National (York) | ❌ |
| Virginia | ✅ | December 2021 | Colonial Downs Racetrack | ❌ |
| West Virginia | ✅ | August 2021 | Hollywood Casino at Charles Town Races | ❌ |
As you can see, PointsBet Sportsbook is currently legal in 14 U.S. states: CO, IA, IL, IN, KS, LA, MD, MI, NJ, NY, OH, PA, VA, and WV. The PointsBet Online Casino is also available in New Jersey after its January 2022 launch in the Garden State.
In addition to the mobile and online sports betting platform offered to customers in the states listed above, PointsBet provides retail sports betting in Iowa at Catfish Bend Casino as well as in Illinois at Club Hawthorne in Prospect Heights, Club Hawthorne in Crestwood, and Hawthorne Race Course in Cicero.
Where Will PointsBet Sportsbook Become Legal Next?
There are currently 36 U.S. states where PointsBet is not yet available. A full list of these locations is provided below.
Alabama
Alaska
Arizona
Arkansas
California
Connecticut
Delaware
Florida
Georgia
Hawaii
Idaho
Kentucky
Maine
Massachusetts
Minnesota
Mississippi
Missouri
Montana
Nebraska
Nevada
New Hampshire
New Mexico
North Carolina
North Dakota
Oklahoma
Oregon
Rhode Island
South Carolina
South Dakota
Tennessee
Texas
Utah
Vermont
Washington
Wisconsin
Wyoming
Since well over 30 U.S. states have already legalized online sports betting within their borders and several others are in the process of introducing or voting on sports betting legislation, it seems likely that PointsBet Sportsbook will expand into new markets in the upcoming years.
How To Get Started With PointsBet in Your State
If you would like to get started with PointsBet Sportsbook today, just follow the steps listed below!
1

 Visit the PointsBet Website or Mobile App
Click here to open the PointsBet website. You can also choose to download the PointsBet Sportsbook mobile app from the App Store or Google Play Store.
2

 Register for an Account
Begin to create your account with PointsBet Sportsbook. Provide all necessary personal information (e.g., state, date of birth, email address, and social security number), agree to the Terms & Conditions, and verify your identity to complete the registration process. Use the promo code 5X50 to claim the special welcome offer provided to all new users.
3

 Make Your First Deposit
Make an initial deposit to your PointsBet account using a debit card, credit card, online bank account, PayPal, or any other reliable form of payment offered by the platform. A minimum deposit of $5 is required.
4

 Start Placing Bets
Your deposited funds will be immediately credited to your PointsBet account. Start placing wagers on all your favorite teams, sports, and leagues!
Pros & Cons of PointsBet Sportsbook
Once you find out that PointsBet is available in your state, you may want to make sure that it has what you are looking for in an online sports betting platform. A general outline of the pros and cons of PointsBet Sportsbook is shown below.
| | |
| --- | --- |
| Pros | Cons |
| Straightforward Sign-Up Process | Increased Risk With PointsBetting |
| Reliable Customer Support Team | Limited Deposit & Withdrawal Options |
| Live Streaming of Select Games and Events | Tend To Be Quick at Limiting Bettors on a Hot Streak |
| Innovative & Exciting Form of Wagering Known as PointsBetting |   |
| Generous Welcome Opportunity |   |
| Speedy Payouts |   |
| Simple & Easy-To-Understand Customer Rewards Program |   |
| Frequent Promotional Offers and Special Bonus Deals |   |
| Same-Game Parlays and Early Cash Outs Available |   |
| Very Competitive Odds |   |
As you can see, the advantages of PointsBet Sportsbook far outnumber the disadvantages. The unique and high-risk, high-reward form of wagering known as PointsBetting is what typically attracts new customers. PointsBetting allows your winnings or losings to vary greatly depending on how accurate your prediction was for a game or event. For instance, if you bet $20 on the Lakers to cover a three-point spread against the Grizzlies, you would win $200 (i.e., 10x your initial bet) if the Lakers covered by 10 points.
Furthermore, many promotional deals and bonus opportunities are provided on a consistent basis to everyday users of PointsBet Sportsbook. This includes odds boosts, referral programs, parlay insurance, and much more. You will also find that PointsBet has reliable customer service, an exciting and easy-to-understand customer loyalty program, and live streaming of certain games and events.
It is also important to mention the few downsides associated with PointsBet Sportsbook. First, PointsBetting can be very exciting, but it can also be incredibly risky to bettors who do not completely understand how it works. You can lose much more than your initial wager and even end up with a negative balance if you are not careful. In addition, there are a limited number of deposit and withdrawal options available to PointsBet users.
Nevertheless, PointsBet is a top-tier sports betting platform and could very well be the perfect option for you!
Where is PointsBet legal?
PointsBet Sportsbook is currently legal in 14 U.S. states: Colorado, Illinois, Indiana, Iowa, Kansas, Louisiana, Maryland, Michigan, New Jersey, New York, Ohio, Pennsylvania, Virginia, and West Virginia.
Who can use PointsBet Sportsbook?
You must be at least 21 years or older, not included on any exclusion lists, and physically present in a state where PointsBet is currently licensed and operating in order to sign up for an account and place wagers with PointsBet Sportsbook.
Does PointsBet have a casino?
Yes, PointsBet Online Casino is currently available in New Jersey and offers a special new player bonus as well as a wide selection of slots and table games.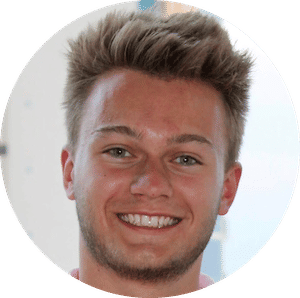 Peyton Powell
Peyton is an huge sports fan and a graduate of the University of Louisville. He has always enjoyed playing, watching, and betting on sports. Born and raised in Kentucky, a state without any professional sports teams, he had to find teams to cheer for away from home. Peyton's favorite teams include the Los Angeles Lakers, Baltimore Ravens, and Boston Red Sox.