Where Is DraftKings Sportsbook Legal? All Available U.S. States in 2023
April 21, 2023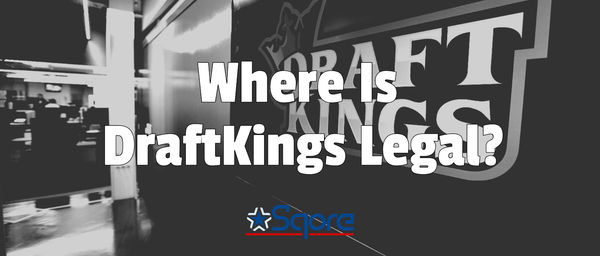 DraftKings Sportsbook has quickly established itself as a major player in the online sports betting industry. However, with laws and regulations varying widely across jurisdictions, it can be challenging to figure out where the sportsbook is currently available. 
Whether you're a seasoned bettor or just getting started, it is crucial to have a clear understanding of where you can access DraftKings Sportsbook. In this article, we will break down the availability of DraftKings across the United States. Continue reading to find out if DraftKings is legal in your state and how you can sign up and start placing bets today!
Is DraftKings Sportsbook Legal in Your State?
DraftKings Sportsbook provides online and mobile sports betting and is currently authorized and operational in numerous states across the U.S. The list includes Arizona, Colorado, Connecticut, Illinois, Indiana, Iowa, Kansas, Kentucky, Louisiana, Michigan, Massachusetts, Maine, New Hampshire, New Jersey, New York, Oregon, Pennsylvania, Tennessee, Virginia, West Virginia, and Wyoming. Check the table below for detailed information to determine if DraftKings Sportsbook is legally accessible in your specific state
| | | | | |
| --- | --- | --- | --- | --- |
| State | DK Sportsbook | DK Casino | Launch Date | Retail Partner |
| Arizona | ✅ |   | September 2021 | TPC Scottsdale |
| Colorado | ✅ |   | May 2020 | Mardi Gras Casino (Black Hawk) |
| Connecticut | ✅ |   | October 2021 | Foxwoods Resort Casino |
| Illinois | ✅ |   | August 2020 | DraftKings at Casino Queen |
| Indiana | ✅ |   | October 2019 | Ameristar Casino |
| Iowa | ✅ |   | February 2020 | Wild Rose Casino |
| Kansas | ✅ |   | September 2022 | Boot Hill Casino & Resort |
| Kentucky | ✅ |   | September 2023 |   |
| Louisiana | ✅ |   | January 2022 | Golden Nugget Hotel & Casino Lake Charles |
| Maine | ✅ |   | November 2023 | Passamaquoddy Tribe |
| Maryland | ✅ |   | November 2022 | Maryland State Fairgrounds |
| Massachusetts | ✅ |   | March 2023 | N/A |
| Michigan | ✅ | ✅ | January 2021 | Bay Mills Resort & Casino |
| New Hampshire | ✅ |   | December 2019 | The Brook Casino, Filotimo Casino |
| New Jersey | ✅ | ✅ | September 2018 | Resorts Casino |
| New York | ✅ |   | January 2022 | del Lago Resort & Casino |
| Ohio | ✅ |   | January 2023 | Hollywood Casino Toledo |
| Oregon | ✅ |   | January 2022 | N/A |
| Pennsylvania | ✅ | ✅ | November 2019 | Penn Interactive |
| Tennessee | ✅ |   | November 2020 | N/A |
| Virginia | ✅ |   | January 2021 | N/A |
| West Virginia | ✅ | ✅ | August 2019 | N/A |
| Wyoming | ✅ |   | September 2021 | N/A |
DraftKings, a renowned online sportsbook and daily fantasy sports platform, extends its services to a broad swath of the United States. This availability empowers millions of sports enthusiasts in these states to partake in various sports betting and fantasy sports contests. DraftKings is known for its robust selection of sports, competitive odds, and innovative features, making it a popular choice among sports betting and fantasy sports fans.
Mississippi and Washington do not presently have access to the DraftKings Sportsbook website or mobile app. However, they may place bets with DraftKings Sportsbook in person at Scarlet Pearl Casino Resort in Mississippi as well as at the Tulalip Resort Casino and Quil Ceda Creek Casino in Washington.
DraftKings Casino
Furthermore, the DraftKings Online Casino is legal in five U.S. states: Connecticut, Michigan, New Jersey, Pennsylvania, and West Virginia. 
DraftKings DFS
In addition, DraftKings Daily Fantasy is widely available nationwide, as only six U.S. states (Connecticut, Hawaii, Idaho, Montana, Nevada, and Oregon) currently prohibit daily fantasy sports (DFS) contests.
Where Is DraftKings Not Available?
DraftKings Sportsbook has yet to launch in 27 U.S. states, all of which are listed below.
Alabama
Alaska
Arkansas
California
Delaware
Florida
Georgia
Hawaii
Idaho
Minnesota
Mississippi
Missouri
Montana
Nebraska
Nevada
New Mexico
North Carolina
North Dakota
Oklahoma
Rhode Island
South Carolina
South Dakota
Texas
Utah
Vermont
Washington
Wisconsin
Well over 30 different U.S. states have legalized online sports betting in recent years. Therefore, DraftKings could go live in several of the states listed above once deals are negotiated and agreements are reached. In addition, many states are expected to legalize the practice of sports betting in the not-so-distant future and could be potential targets for DraftKings Sportsbook.
Furthermore, even if DraftKings has not yet launched in your state, you have the opportunity to use DraftKings Sportsbook each time you enter a state where it is currently legal. For instance, sports bettors in Louisville, Kentucky can place wagers on all their favorite teams with DraftKings when they cross the bridge and visit Indiana. Ultimately, this means you do not need to be a resident of a state where the sportsbook is available. Instead, you just need to be physically present there when placing your bets.
How To Get Started With DraftKings In Your State
If DraftKings is available in your state, you can sign up and start placing bets by following the steps provided below!
1

 Open the DraftKings Website or Mobile App
Click here to visit the DraftKings website. Or, if you prefer, you may download the DraftKings Sportsbook & Casino app from the App Store or Google Play Store.
2

 Create a DraftKings Account
Proceed to click "SIGN ME UP." Complete the registration process by entering all requested personal information, choosing a username and password, agreeing to the Terms & Conditions, and verifying your identity.
3

 Make Your First Deposit
Choose any of the reliable payment options offered by DraftKings Sportsbook, and make an initial deposit of $5 or more to your account. As a welcome bonus users can expect a industry leading Bet & Get offer
4

 Start Placing Bets
Your deposited funds will be immediately credited to your account. Start placing bets on any matchup or sporting event of your choice!
Why You Should Choose DraftKings Sportsbook
If DraftKings is legal in your state, then you may want to consider whether it is a good fit for your personal preferences and sports betting needs. There are a wide range of reasons why DraftKings Sportsbook may be the perfect option for you. For instance, DraftKings offers an exciting welcome opportunity to all new customers and is highly regarded for its frequent promotions and bonuses provided to everyday customers.
In addition, DraftKings Sportsbook has a user-friendly, reliable mobile app available to both Apple and Android users. You may also enjoy the top-tier live betting experience and variety of bet types offered on the platform. DraftKings covers an unbelievable amount of markets and leagues across the world, and it offers an unrivaled number of alternative lines and totals to its users.
You will also be able to choose from a variety of different payment options, including but not limited to online bank accounts, debit cards, credit cards, PayPal, Venmo, PayNearMe, and cash (in certain states). Overall, it is clear that DraftKings Sportsbook is one of the top sports betting platforms in the United States and beyond.
Where can I use DraftKings Sportsbook?
You can sign up for a DraftKings account from anywhere in the world. However, you must be physically present in AZ, CO, CT, IL, IN, IA, KS, LA, MA, MD, MI, NH, NJ, NY, OH, OR, PA, TN, VA, WV, or WY to place bets with DraftKings Sportsbook.
Are there age restrictions on DraftKings?
Yes, you must be at least 21 years or older to open an account and place wagers with DraftKings Sportsbook. In addition, although it varies depending on the state, you must typically be at least 18 years or older to enter DraftKings daily fantasy sports (DFS) contests.
Does DraftKings have a casino?
Yes, DraftKings currently offers its online casino to those who are 21 years or older and physically located in Connecticut, Michigan, New Jersey, Pennsylvania, or West Virginia.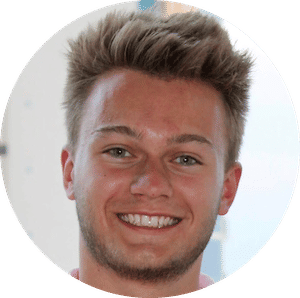 Peyton Powell
Peyton is an huge sports fan and a graduate of the University of Louisville. He has always enjoyed playing, watching, and betting on sports. Born and raised in Kentucky, a state without any professional sports teams, he had to find teams to cheer for away from home. Peyton's favorite teams include the Los Angeles Lakers, Baltimore Ravens, and Boston Red Sox.