PayPal Betting Sites: Top Sportsbooks That Accept PayPal
November 2, 2023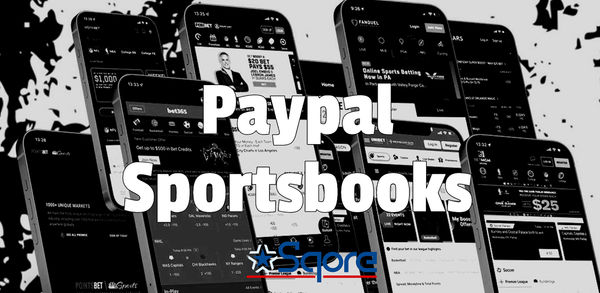 PayPal is one of the most commonly accepted forms of payment among online sportsbooks in the United States and around the world. DraftKings, FanDuel, Caesars, BetMGM, BetRivers, and many other popular betting platforms allow customers to make both deposits and withdrawals using their PayPal account. 
In addition, PayPal has established itself as one of the most reputable and trustworthy payment methods for online sports betting, as all bettors can rest easy knowing their personal information and transactions are always safe and secure when using PayPal.
But what are the top online sportsbooks that currently accept PayPal as a valid form of payment? How can you get started betting today with your PayPal account? And how does PayPal compare to other deposit and withdrawal methods for online sportsbooks? Please continue reading to find the answers to all your questions as we provide an in-depth guide to online sports betting with PayPal.
Gambling problem? Call 1-800-GAMBLER CO, DC, IL, IN, KY, LA, MD, MS, NJ, OH, PA, TN, VA, WV, WY
Call 877-8-HOPENY or text HOPENY (467369) (NY), Call 1-800-327-5050 (MA), 21+ to wager. Please Gamble Responsibly. Call 1-800-NEXT-STEP (AZ), 1-800-522-4700 (KS, NV), 1-800-BETS-OFF (IA), 1-800-270-7117 for confidential help (MI). 
Best Sportsbooks for PayPal Deposits & Withdrawals
You will be able to choose from a staggering amount of online sportsbooks that currently accept PayPal. Some popular options and what they have to offer are described in further detail below.
BetMGM Sportsbook

BetMGM Sportsbook is a great option for bettors whose preferred payment method is PayPal. You can fund your online sports betting account immediately at any time of the day using PayPal, and a minimum deposit of just $10 is required. 
In addition, assuming you have met any wagering requirements if you were awarded bet credits or bonus funds, you can withdraw funds to your PayPal account within 1-5 business days.
BetRivers Sportsbook

Another PayPal betting site that deserves your consideration is BetRivers. You will be able to instantly deposit any amount from $10-$50,000 to BetRivers using your PayPal account. BetRivers does not typically add any extra charges or additional fees when you make PayPal transactions in or out of your sports betting account. 
Moreover, BetRivers provides betting options on an extensive range of sports and leagues worldwide, along with regular promotional offers for new and returning patrons.
DraftKings Sportsbook

One of the most popular betting sites currently allowing PayPal transactions is DraftKings Sportsbook. DraftKings users can make deposits of as little as $5 from their PayPal account and start placing wagers immediately. 
While not all regions permit PayPal withdrawals, those with the option to transfer funds from their DraftKings account using PayPal can typically anticipate the transaction to be finalized within 48 hours.
FanDuel Sportsbook

You are also likely familiar with FanDuel Sportsbook, which began allowing PayPal transactions a few years ago. FanDuel is a trustworthy and reliable sports betting platform; therefore, you will always be able to make deposits from your PayPal account to FanDuel, knowing that your privacy is maintained and your personal information is well-protected. 
Withdrawals to your PayPal account are generally processed within one hour by FanDuel and will be completed within two days in most cases.
Why You Should Use PayPal for Sports Betting
There are many reasons why PayPal is such a popular payment method among online sports bettors. For instance, PayPal is one of the most reliable and trustworthy digital wallets on the market. You can consistently make safe and secure transactions from your PayPal account, knowing that your personal information and funds will always be well-protected. In addition, the PayPal website and mobile app are both very easy to use, and you can sign up for an account any time in just 5-10 minutes. 
Furthermore, PayPal like Visa is a widely accepted form of payment when it comes to sports betting in the United States, and you will never have to worry about this payment option being unavailable on any of the popular online sportsbooks mentioned throughout this article. You will also find that PayPal deposits are almost always immediate, so you will be able to instantly start making wagers on the NBA, NHL, MLB, NFL, or any other leagues available on your betting site.
Other Payment Methods we recommend
Choosing a PayPal Betting Site
While it is always important to know that your preferred payment option will be accepted by a sportsbook, there are many other key factors to consider when choosing a PayPal betting site. A list is included below of these factors and why they should matter to customers.
Competitive Odds: It is very important that your sportsbook offers competitive odds on all of its betting options. Many bettors will choose to sign up for multiple platforms and shop around for the best odds in order to increase their chances of being profitable over the long run.
Availability in the United States: Sportsbooks are not all available in the same U.S. states. For instance, unlike DraftKings, BetMGM is available in Nevada. On the other hand, unlike BetMGM, DraftKings is available in New Hampshire. As a result, you will want to first want to consider which options are currently available in the state you live.
Customer Service: Customer service is always an important factor to consider. Although you will likely only reach out to your platform's customer support team on rare occasions, you will want to know that they are immediately available to answer your questions or address any concerns if a problem should ever arise. 
Mobile App User Experience: Many customers will use the mobile app offered by sportsbooks in the United States. Many mobile apps will vary in terms of reliability and ease of use. Some apps may be more likely to freeze or crash while you are in the middle of placing a bet. Additionally, some mobile apps may be less user-friendly or less aesthetically pleasing to customers.
Welcome Offers and Bonus Opportunities: It is very common for sports betting sites to provide new users with special promotional deals, such as first bet insurance or guaranteed bonus bets. As a result, you may want to choose an enticing offer that is generous and can work to your advantage. Betting platforms will also differ in how often they provide promotional offers to their everyday customers and whether or not they have a customer loyalty program that rewards users for consistent play.
Types of Bets Offered: Sportsbooks will all generally have the most common wagering options, such as point spreads, moneylines, over/under totals, and teasers. However, some sites offer same-game parlays, which have become very popular in recent times. And other betting platforms have a greater number of alternative lines for you to choose from when placing wagers.
Overall, choosing a sportsbook that accepts PayPal will come down to your specific betting needs and what you value most in a betting site. This can be a difficult choice; therefore, many users will sign up for multiple platforms to try them out, claim their welcome offers, and shop around for the best odds while deciding which option works best for them.
How To Start Betting With PayPal
You can get your betting experience started today by creating a PayPal account (if necessary), choosing a sportsbook, and making your first deposit. Just follow the steps below, and you will be placing wagers in no time!
1

 Create a PayPal Account
If you have not previously signed up for an account with PayPal, visit their website or mobile app and begin the registration process. Enter your personal information, verify your identity, and link your bank account or debit/credit card.
2

 Select a Sportsbook
You will then need to pick a sports betting platform that accepts payments using PayPal and works best for you. You may want to consider the site's welcome opportunity, customer service, and customer loyalty program when making your decision.
3

 Sign Up for an Account With the Sportsbook
Complete the sign-up process by entering all required information, agreeing to the Terms & Conditions, and verifying your account. You may also choose to enter a promo code to claim the platform's welcome offer to new customers.
4

 Make a PayPal Deposit
Deposit funds from your PayPal account by selecting "PayPal" as your preferred payment option, choosing the amount you wish to deposit, and logging in to your PayPal account. The funds are typically credited to your account immediately.
5

 Start Placing Bets
Place any wagers of your choice using the deposited funds. You may also use the bonus bets awarded through the welcome offer (if applicable).
6

 Withdraw Funds to Your PayPal Account
When you are ready, you may withdraw funds from your online sportsbook account to PayPal by selecting the "Withdrawal" or "Cash Out" option on the sportsbook's website or mobile app. Choose the amount you wish to withdraw from your account, and you can typically expect the funds to reach your PayPal account within 2-3 business days.
Where can I bet on sports with PayPal?
You can sign up for an account and make a PayPal deposit with any of the popular online sportsbooks referenced in this guide (e.g., DraftKings, FanDuel, BetMGM, Caesars, and BetRivers). In fact, PayPal is an acceptable payment method of payment for all major betting sites in the United States.
Is PayPal safe for sports betting?
PayPal is one of the safest methods for making transactions to and from an online sportsbook. Your PayPal account information and funds are secure and well-protected when using any of the sportsbooks included on this page. 
What are the disadvantages of PayPal betting?
Although the pros of sports betting with PayPal are far greater in number and importance, there are some disadvantages worth noting. First, additional fees are common when transferring funds from your debit card or credit card to your PayPal account. In addition, PayPal withdrawals can take slightly longer on occasion because the digital payment platform will often take extra steps to prevent fraud or suspicious activity. 
Is PayPal or Venmo better for sports betting?
Both PayPal and Venmo are excellent options for funding your sports betting accounts. The major advantage PayPal has over Venmo at this time is availability. There are more platforms currently allowing deposits and withdrawals with PayPal than Venmo.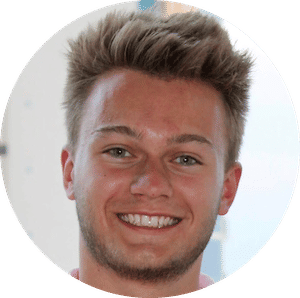 Peyton Powell
Peyton is an huge sports fan and a graduate of the University of Louisville. He has always enjoyed playing, watching, and betting on sports. Born and raised in Kentucky, a state without any professional sports teams, he had to find teams to cheer for away from home. Peyton's favorite teams include the Los Angeles Lakers, Baltimore Ravens, and Boston Red Sox.