Where Is Bet365 Sportsbook Legal? All Available U.S. States in 2023
October 10, 2023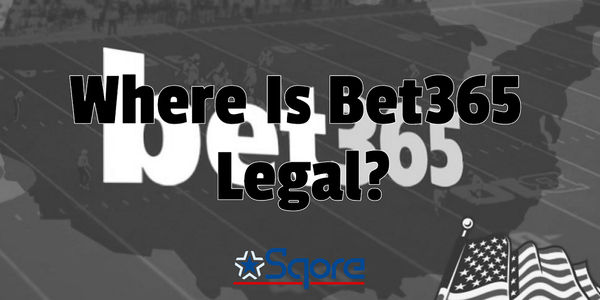 Bet365 is a worldwide leader in online betting. Over the years, it has established itself as a reliable, high-quality sportsbook for customers all over Europe and beyond. After the Professional and Amateur Sports Protection Act of 1992 was overturned by the Supreme Court, Bet365 decided to enter the United States sports betting market. Largely due to the complex regulatory landscape of online sports betting in the U.S., Bet365 is currently legal in a limited number of states.
Are you looking to find out if Bet365 Sportsbook has launched in your state? Do you want to find out if Bet365 is planning to enter your state in the near future? And what steps do you need to take to sign up with Bet365 and start placing bets? Continue reading to find all the answers and learn everything you need to know about Bet365 Sportsbook and its presence in the United States.
Bet365 Sportsbook & Casino: All Legal U.S. States
Each of the states where Bet365 Sportsbook & Casino currently operates is listed in the table below.
| | | | | |
| --- | --- | --- | --- | --- |
| State | Online/Mobile Sports Betting | Launch Date | Licensing Partner | Online Casino |
| Colorado | Available ✅ | September 2022 | Century Casinos | Not Available ❌ |
| Louisiana | Available ✅ | November 2023 | Charlotte Hornets | Not Available ❌ |
| New Jersey | Available ✅ | August 2019 | Hard Rock Hotel & Casino Atlantic City | Available ✅ |
| Ohio | Available ✅ | January 2023 | Cleveland Guardians | Not Available ❌ |
| Virginia | Available ✅ | January 2023 | Washington Commanders | Not Available ❌ |
| Iowa | Available ✅ | June 2023 | Casino Queen Marquette | Not Available ❌ |
| Kentucky | Available ✅ | September 2023 | Sandy's Gaming and Racing | Not Available ❌ |
As you can see, Bet365 is only available in Colorado, Louisiana, New Jersey, Iowa, Kentucky, Ohio, and Virginia today. However, all have launched in recent years and are off to great starts. Further details about Bet365's presence and special opportunities in each state are provided below.
Bet365 Colorado: Bet365 Sportsbook became available in a second U.S. state on September 1, 2022 through a partnership with Century Casinos in Colorado. A gaming company that operates many different casinos in the United States and Canada, Century Casinos currently owns two properties in the Centennial State: the Century Casino & Hotel in Central City and the Century Casino in Cripple Creek. It is also worth noting that Bet365 announced a three-year partnership with the MLB's Colorado Rockies in April 2023.
Bet365 Louisiana: The launch in Louisiana in November 2023 represents bet365's expansion into its seventh state. In Louisiana, online wagering availability varies across different areas due to a parish-by-parish vote. Bet365 operates in 55 out of the state's 64 parishes.
Bet365 New Jersey: After agreeing with Hard Rock Hotel & Casino Atlantic City and adhering to requirements set forth by the New Jersey Division of Gaming Enforcement, Bet365 Sportsbook entered the United States in August 2019. Unlike other American bettors, Bet365 customers in the Garden State have access to the betting site's incredible online casino, which offers a generous new player bonus and a wide selection of slots and table games.
Bet365 Ohio: Ohio was the third U.S. state where Bet365 became legal. Bet365 launched in the Buckeye State in January 2023 through a partnership with the MLB's Cleveland Guardians. Bet365 Sportsbook is licensed and regulated by the Ohio Casino Control Commission.
Bet365 Virginia: The fourth state Bet365 added to its list of legal online sportsbooks was Virginia. Bet365 is an official partner of the NFL's Washington Commanders and went live in Virginia on January 31, 2023. Virginia bettors are now able to place sports wagers using the Bet365 website or mobile app, and they are also able to claim the generous welcome offer available to all new users.
Bet365 Iowa: Iowa is a small state, but it's been very popular for online sports betting and all the top sportsbooks are present.
Bet365 Kentucky: On September 28, Bet365 went live in Kentucky with their online sportsbook. Online casino is not yet live in the state, and there is no current timeline for when online gambling will potentially be regulated and licensed in the state of Kentucky.
Where Will Bet365 Become Legal Next?
Even though well over 30 U.S. states have already legalized online sports betting, Bet365 is currently only legal in some states. The online sportsbook is not yet available in the other 43 states, but this is expected to change in the next few years.
An opening became available in Pennsylvania after TwinSpires chose to exit the online sports betting and casino industry in early 2022. As a result, an agreement was struck between Bet365 and Churchill Downs Incorporated to go live in the Keystone State in the not-too-distant future. Signs are pointing to Bet365 Sportsbook expanding into other states, such as Indiana and Pennsylvania, within the next few years.
How To Get Started With Bet365 In Your State
It is very easy to get started with Bet365. Just follow the steps below, and you will be placing bets in no time!
1

 Visit Bet365
Click here to visit the Bet365 website. You may also download the Bet365 mobile app to your Apple or Android device from the App Store or Google Play Store.
2

 Select Your State
Choose your state from the list provided (Colorado, New Jersey, Iowa, Louisiana, Ohio, Virginia, or Kentucky). 
3

 Create an Account
Begin to register for an account with Bet365 Sportsbook. Enter all requested personal information in the boxes provided (e.g., name, address, social security number, and date of birth). Use the promo code SQORE200 during the sign-up process to claim your welcome offer.
4

 Verify Your Identity
You will need to verify your identity by uploading a picture of your driver's license or another form of identification. Be sure to follow the specific instructions provided by Bet365.
5

 Make a Deposit
Deposit $10 or more into your Bet365 Sportsbook account using any of the safe and secure payment options available (online bank account, debit card, credit card, PayPal, etc.).
6

 Start Betting
Your deposited funds will be instantly credited to your account. Start placing bets on all your favorite sports and leagues!
Why You Should Join Bet365 Sportsbook
There are many reasons why you may be interested in signing up with Bet365 Sportsbook. Listed below are a few of the best features Bet365 has to offer U.S. bettors.
Competitive Odds: Bet365 Sportsbook offers some of the most competitive odds on the market. Although betting at -110 instead of -115 may not seem like a significant difference, it could very well be the difference between making money and losing it in the long run.
Variety of Sports & Markets Covered: It is also important to note that Bet365 is one of the best in the business when it comes to its coverage of a wide variety of sports and leagues from all around the world. Whether you like to bet on popular American leagues (NBA, NFL, MLB, NHL, etc.) or niche sports (e.g., handball, lacrosse, or ping pong), Bet365 has you covered.
Excellent Customer Service: Another great quality of Bet365 is the fantastic customer service it provides to users from all around the world. The Bet365 customer support staff works 24 hours a day, seven days a week to make sure you can get your questions answered and problems solved in a timely manner.
Generous Welcome Offer: All U.S. customers of Bet365 will be able to take advantage of its amazing Bet & Get welcome offer when they sign up and make their first deposit on the platform.
Frequent Bonuses & Promotions: Bet365 Sportsbook is also well known for the frequent bonus opportunities and promotional deals offered to existing customers. This includes periodic reload bonuses, odd boosts, bonus bets, and more!
High-Quality Mobile App: You will also find that the Bet365 Sportsbook mobile app is very user-friendly and quite reliable, meaning it does not tend to crash or buffer when you are trying to place your bets.
Fantastic Live Betting Experience: Lastly, Bet365 is a great option for users who enjoy placing in-game wagers. You will have many different bet types to choose from and can stream select games on your mobile device or desktop computer.
Where is Bet365 Sportsbook legal?
Bet365 Sportsbook is currently legal in Colorado, New Jersey, Ohio, Virginia, Iowa, Louisiana, and Kentucky. Bettors do not need to be a resident of one of these four U.S. states to sign up and use the online betting site; instead, they will just need to be physically present in one of the aforementioned states to place bets with Bet365 Sportsbook.
Does Bet365 have a casino?
Yes, Bet365 has an online casino available to American bettors in the state of New Jersey. The Bet365 Online Casino has many great features, including frequent promotional offers and a broad selection of casino games.
Who is eligible to use Bet365?
All customers 21 years or older and physically present in Colorado, New Jersey, Ohio, Virginia, Iowa, Louisiana, or Kentucky may sign up and start placing wagers with Bet365 Sportsbook. It is also mandatory that bettors are not included on any exclusion lists in order to use Bet365.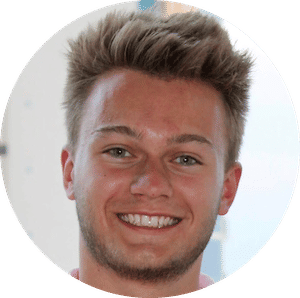 Peyton Powell
Peyton is an huge sports fan and a graduate of the University of Louisville. He has always enjoyed playing, watching, and betting on sports. Born and raised in Kentucky, a state without any professional sports teams, he had to find teams to cheer for away from home. Peyton's favorite teams include the Los Angeles Lakers, Baltimore Ravens, and Boston Red Sox.