College Football Hall of Famer Andrew Luck makes appearance in Lucas Oil Stadium
January 12, 2022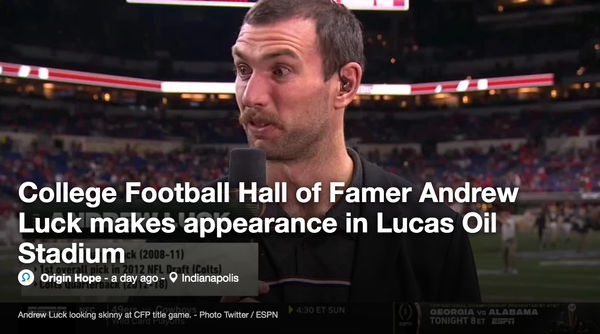 Andrew Luck looked very different when he walked into Lucas Oil Stadium on Monday night for the first time since he left the Indianapolis Colts.
Before the College Football Playoff championship game between Georgia and Alabama, Luck appeared on ESPN's "College GameDay" show to announce that he would be a part of the 2022 College Football Hall of Fame class.
During his interview with ESPN's Joe Tessitore, Luck mentioned that it was an honor to be selected for the Hall of Fame, and he thanked his teammates and the excellent coaching staff at Stanford.
During his time at Stanford, Luck was regarded as one of the best quarterbacks in the country. He placed second to Robert Griffin III and Cam Newton in the 2010 and 2011 Heisman Trophy voting.
During a discussion about the challenges of being a professional quarterback, Robert Griffin III asked Luck about what he had been doing since he retired. "Full-time daddy duty, and it's been a complete joy," the former Colts' QB answered.
Comments regarding Luck's return to NFL
Despite the speculation about his possible return to the league, Luck has not regretted his decision to leave. He went away from football in 2019 due to various injuries.
According to Luck, he had gotten stuck trying to overcome his injury during his professional career. He felt that it took away his joy of being able to play the game he loved. He vowed that he would never return to the same situation by pulling out from professional football.
"The only way forward for me is to remove myself from football and this cycle that I've been in. I made a vow to myself that if I ever did again, I would choose me in this sense," the 32-year-old former QB said.
Since he no longer has the physique to play football, Luck seems to be more focused on running errands than playing against opposing defensive ends.
Luck's college football career
In 2009, Luck earned the starting job at Stanford, winning it over Tavita Pritchard. He led the Cardinal to an 11-2 record and the 2009 Sun Bowl trip.
During his 2009 season at Stanford, Luck threw for over 2,500 yards and led the team in total offense. He led the league in passing efficiency ratings.
In 2010, Luck became one of the top players in the country. He was named the Offensive Player of the Year of the Pac-10 Conference. He also led the team to a winning record and a trophy in the Orange Bowl.
For the second straight year, Luck led the conference in passing efficiency. He also gained a record-breaking total offense with 3,791 yards and 32 touchdown passes.
Although he was eligible to enter the 2011 NFL draft, Luck decided not to participate in the event. Instead, he stayed at Stanford to complete his degree and prepare for the NFL draft the year after. At that time, he was regarded as the top prospect in the quarterback position.
In 2011, Luck led the Stanford team to an 11-1, which included a trip to a BCS bowl. He was also the runner-up for the Heisman Trophy.
During his senior season, he became the starting quarterback of Stanford's record-breaking team. Through his performance, he became the first player in the conference's history to have a winning percentage of over .800.
College Prop Bets
Prop bets on college football is not that easy to find but there are a few sportsbooks that offer them. The general approach to finding unique and out of the box odds is to alway go to the bigger sportsbooks. The bigger the better is actually a good practise when trying to find a good sportsbook for you. The larger sportsbook brands also tend to offer better sportsbook bonuses. For college betting, DraftKings and Fanduel are always safe choices.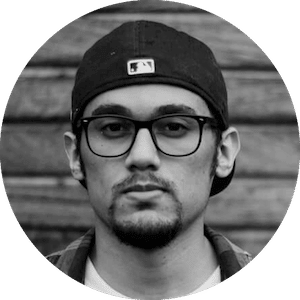 Gus Anderson
Gus Anderson is a gambling wizard. As a kid he dreamt about becoming a Tennis, Hockey and Golf professional but ended up as a gambling professional with focus on both sports & casino.