Whether you are a new or professional punter, you will agree that betting on NCAA hockey can be pretty challenging. There are several conferences and non-conference hockey games played each season. Besides that, you need to consider many variables to make the best predictions that have the highest possibility of winning.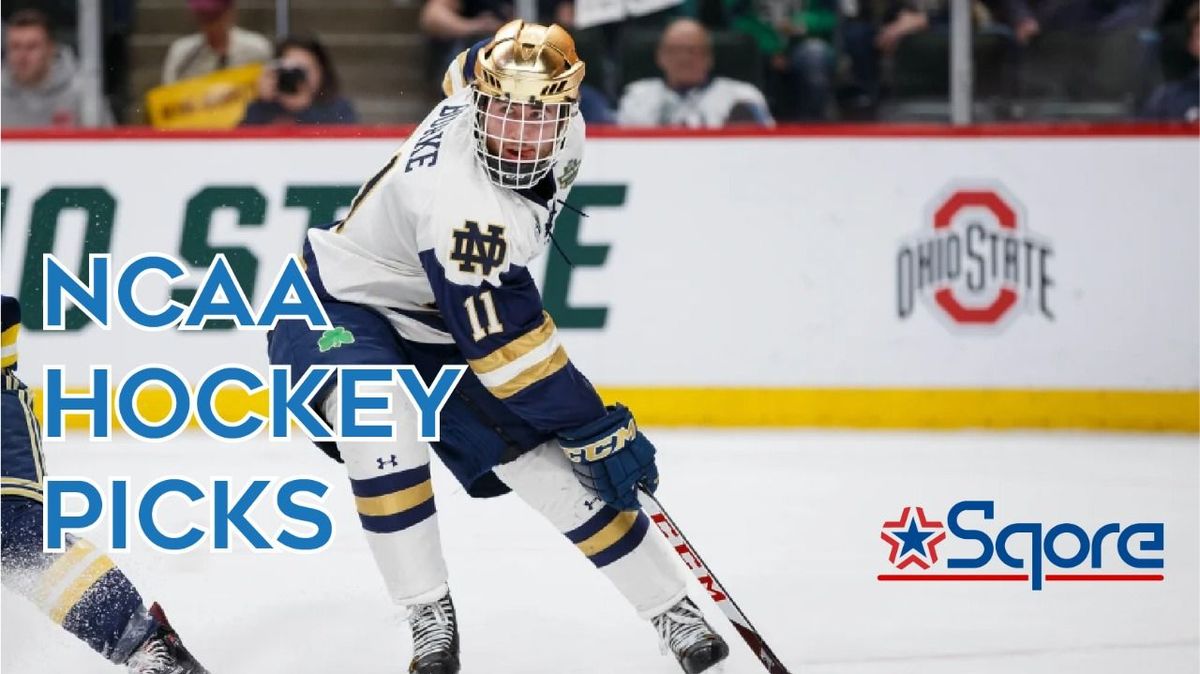 With this much information and betting markets that the top sportsbooks offer, it is easy to get confused and make selections based on emotions. However, at Sqore, we are here to help. We have a team of expert punters and analysts that sift through all this information, allowing us to offer the best picks.
We break down games using statistical data so you can understand the reason for our choices. This way, you can also blend our picks with your prediction to increase your winning chances.
Moneyline Betting
Moneyline betting is one of the most common markets that bettors go for in sports betting, including NCAA hockey. This is because the option is straightforward. When you place a Moneyline bet on a team, you are simply predicting that the team will win the match.
This explains why the option is popular among bettors when a favorite team is playing an underdog. However, before you predict that a particular college hockey team will win a game, there are several factors you need to consider. This includes fatigue, team performance, injuries, and other statistics. Our tipsters at Sqore take a critical look at these factors, providing a Moneyline bet with great odds value.
Betting on Point Spread
As with most sports, you can also bet against the spread in NCAA hockey. A point spread is an advantage that a sports betting operator gives a team, and it can either be a positive or negative advantage. So if you are betting against the spread, you are simply predicting that a team will pass the point spread set by the sportsbook.
For example, if Minnesota State is given a point spread of -3 goals in a conference game, and you bet on them to win, then your bet will only win if Minnesota State wins the match by four or more goal differences. Before you bet on a team against the spread, be sure you've done your analysis of the game, considering factors like the goals per game and head-to-head statistics.
Betting on Totals Under/Over in College Hockey
Another betting market for NCAA hockey offered by both online and land-based sportsbooks is the under/over betting. Here, you are predicting that the total number of goals scored in a match will be under or over a value that the betting operator has specified.
For instance, if you bet over seven in the NCHC Championship final match between North Dakota and St. Cloud State, you will win the bet since the final score was 5-3 (eight goals). However, if you bet under seven goals for the same game, you will lose the bet.
Before we offer under/over picks for college hockey, we consider all the essential factors such as the goals per game of the teams, attacking and defending prowess, and other team stats.
Betting on NCAA Hockey Players
Although not as common as the markets we've discussed so far, you can bet on college hockey players in conference games, non-conference games, and the NCAA Tournament. When it comes to betting on players, there are several options available, depending on the sportsbook.
For instance, you can bet on the player to score a goal in a college hockey game or win the man of the match award. With exceptional players like Owen Power, who was selected by the Buffalo Sabres in the 2021 draft, there are good options that you can enjoy betting on players in NCAA hockey.
As usual, however, you must make sure you consider all the crucial factors, like the player's goal-scoring ratio per game, before you place your bet.
At Sqore, our tipsters consider players' performance and their impact on their team before providing picks and predictions.
We want to help you win when you bet on your favorite NCAA hockey teams and conferences. This is why we do not limit our picks to premium players. Instead, we provide free tips and predictions that span through different conferences, from the Big Ten to the Hockey East.
Besides that, we also offer free predictions for non-conference games and the NCAA tournament. You can check out some of our recommended sportsbooks where you can play and place your bets and enjoy the best odds and offers. At Sqore, we start giving out free picks from the start of the league season to the end.
The National Collegiate Hockey Conference is the men's NCAA Division 1 hockey. There are six conferences in college hockey: Big 10, Atlantic Hockey, Hockey East, WCHA, and NCHC. Each conference plays conference games in the regular season. Some teams play 34 games, while others, like Alaska, play less.
At the end of the regular season, the post-season tournaments kick-off. This includes the NCHC Tournament, Hockey East Tournament, and so on.
The winners of each conference tournament get an automatic spot in the NCAA Tournament, and the selection committee fills the remaining sport. The tournament is the highest level of NCAA men's competition, and it features 16 teams. These teams are split into four regionals: West, Northeast, Midwest, and East Regionals. Each region consists of four teams that play against each other.
The semi-finals and finals of the competition are referred to as the Frozen Four. The winner of the finals is then crowned the national champion.
At Sqore, we stay on top of all events in the NCAA Tournament. Our expert tipsters consider all the vital information and statistics of the games to help us offer picks with close to a 100% success rate. Once the date of the tournament is scheduled, you can count on us to start giving you the best picks.
Our picks cover a wide range of betting markets, ranging from Moneyline bets to Point Spread bets.
As a bettor, checking the rankings of college hockey teams can be a good way to help you identify the right teams to bet your money on. With the rankings, you can know who the underdogs and favorites are in a conference. For example, North Dakota is currently ranked first with 795 points, based on the USCHO rankings.
This is the current NCHC Tournament champion defeating St. Cloud State in the finals. Another top team that ranks second in the USCHO rankings is Minnesota, with 737 points. Below we will highlight the top 15 teams in NCAA Men's Hockey.
North Dakota - 795 points
Minnesota - 737 points
Boston College - 737 points
Wisconsin - 652 points
Minnesota State - 640 points
Massachusetts - 630 points
St. Cloud State - 548 points
Michigan - 538 points
Minnesota Duluth - 441 points
Boston University - 408 points
Quinnipiac - 386 points
Omaha - 330 points
Lake Superior State - 306 points
Bemidji State - 265 points
AIC - 241 points
The NHL Entry Draft is a mechanism that every franchise in the National Hockey League uses to select players from colleges and universities into their team. It is an annual meeting, and only players that meet the eligibility requirements can be selected in the draft. As a bettor, you can bet on the draft by predicting which team will sign a player.
With the different information and statistics we provide on teams and their players, this betting option can be lucrative.
Enjoy Top Picks Beyond NCAA Hockey
At Sqore, we do more than just provide you with the best college hockey tips. We also give you insight into how prediction works and the key elements that can help tip the scale of your betting experience from poor to great. With several expert tipsters on our team, we can check all the aspects of NCAA hockey games, especially those that an ordinary bettor can miss.
We analyze each game critically, consider the stats, current form, team news, injuries, and other factors that can affect the outcome of the games. Besides that, we post our tips and picks several hours before the game kicks off, giving you ample time to compare them with your own analysis and make an even better selection.
Visit our site regularly to get the latest free picks for NCAA hockey and other college sports like football, baseball, and basketball.