While college hockey betting is not as popular as NHL betting, you can still get the most out of it if you know the game. If you are wagering on the NHL, college hockey betting will not be a challenge to understand.
Betting on NCAA hockey is easy, and it works the same way as college football and other sports. However, before you start wagering your hard-earned money on college hockey, you should know how it works. 
You should begin by understanding the different betting markets and options that online sportsbooks offer for NCAA hockey. Besides that, you need to identify the factors that influence the outcome of games so that you can make accurate predictions.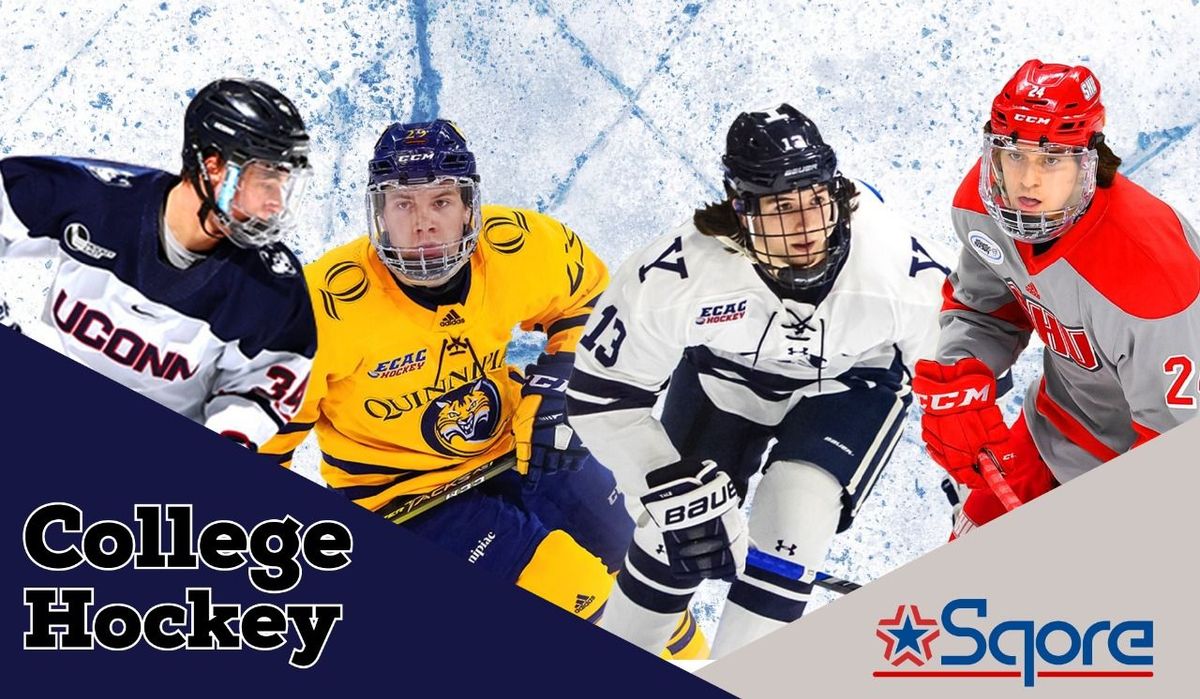 How to Bet on NCAA Hockey
Once you've understood all these vital factors, you can create an account with an online sportsbook licensed under US law. When you play at the best sports betting sites, you'll not only enjoy a wide range of betting markets, but you can also claim different kinds of lucrative bonuses. 
In addition, these betting operators offer great odds, so you get a better return on your stakes. You can take a look at our recommended sportsbook, which provides players with the best betting experience for college hockey betting, 
After registering your betting account, it's time to fund your account. Once that is done, head over to the sports section of the sportsbook and click on hockey. Next, select NCAA or college hockey and click on the particular event you want to bet on. 
Finally, make your selection of the betting market and odds. This will reflect in the betting slip, and then you can enter the amount you want to wager and place your bet.
Below is a step guide on how to bet on NCAA hockey.
Join a licensed online sports betting site like those we recommend at Sqore
Fund your betting account using one of the supported deposit methods, and take advantage of the welcome bonus
Go to the sports section of the betting site and click on hockey
Choose NCAA/College hockey from the list
Select the event you want to bet on and make your predictions
Check the betting slip to see the betting odds and enter the amount you wish to wager.
So far, we've explained how college hockey betting works. Now, let's talk about the different kinds of bets you can place.
Moneyline Bet
Moneyline bet is a popular betting option in college hockey. When you place this type of bet, you're simply predicting which team will win a match in the regular period. For instance, you can bet on the home team or away team to win in a game.
Against the Spread Bet
As with most sports, you can also bet against the spread in NCAA hockey. The sportsbook gives a team a positive or negative advantage, referred to as the spread. If you bet on such a team, it must be able to pass the spread for you to win. For instance, if a college hockey team is given a -4 point spread, your bet on the team to win will only succeed if it scores at least 5 points more than its opponent.
Totals Under/Over Bet
Many online sportsbooks also accept totals under/over wagers for hockey. In this kind of bet, you predict how many points scored in a college hockey game will be under or over a value specified by the online sportsbook. For instance, you can bet on the score of a match to be over 5 goals. This means that both teams have to score a total of at least 6 goals for your bet to win.
Proposition Bets
The betting options we've mentioned so far are regular markets. However, you can also place proposition bets on NCAA hockey games. These are special betting options that are not concerned with the final score of a game. For instance, you can bet on the first team to score in a match or win the championship.
Teasers
Teasers are pretty similar to parlays in that they are a combination of different bets into one betting slip. However, bettors can adjust the point spread with teasers, which explains why their payout is usually lower than parlays.
At Sqore, we provide you with the latest information about NCAA hockey. We also offer the best picks that can help increase your chances of winning. Whether it is schedule updates, team news, or other tips, you can count on us to give you accurate information.
As with every sport, there are several strategies you can use when betting on college hockey or even the NHL. These strategies will help increase your chances of placing the right bets and winning. These strategies revolve around understanding hockey odds, when to bet, and what to look for before betting.
Understanding Hockey Odds
Hockey odds work the same way as with every other sport. The odds tell you what your potential payout will be when you wager on a game. For example, if the total odds of your prediction is +130 and you wager $100, then your potential profit is $130 along with your wager amount. However, if the odds is -130, you will need to wager $130 to make $100.
Choosing the Right Time to Bet
Knowing when to bet is an essential factor that can influence your winning probability. Always avoid betting on impulse, as this can cause you to chase a long losing streak. Generally, gambling on college hockey can be done at any time once the season starts. However, some players prefer to bet early before the game kicks off, while others enjoy betting late or even placing live bets. 
Betting early, simply referred to as future bets, gives you the time to analyze the game, and you will also enjoy high odds. However, it does not account for events that happen minutes before the game or during play. 
For example, the injury of a star player in training after you've placed your bet can indeed affect the game's outcome. For this reason, some bettors prefer to bet late. Although they may take low odds, they can be sure of the events before the game commences. However, they can't still know for sure what will happen during gameplay. 
Now is the most exciting time to place wagers on NCAA Hockey. The league is now in the semifinals, the Frozen Four. With the league approaching its end, the players will give it their all to win the championship.
What to Look for When Betting
Similarly, with betting on other college sports, there are some things worth considering before placing your bets on college hockey events. You need to do research on who's playing, how they perform so far, and whether they have any injuries or not.
Home Advantage: A college team playing at home usually has the advantage that they understand their pitch and are not affected by travel fatigue. So it is crucial to consider this factor before you wager your money on a team to win an encounter.
Rivalries: Some teams in NCAA hockey and even within conferences are bitter rivals. Predicting the outcome of rival games requires analyzing all the essential statistics available. This is because these teams play with more passion against each other than in other games.
Points Per Play: Checking the points/goals scored by a team per game is essential, especially if you are considering under/over bets. This gives you an idea of how offensive or defensive a team is and if it can score more goals in a game.
Head-to-Head Statistics: Checking the head-to-head statistics of a hockey game serves as historical data. With this information, you will know which team is stronger and has a higher chance of winning an encounter.
Injuries and Player Factors: The injury of a star player can affect the performance of a college hockey team. So it is vital that you stay up-to-date with team news to know what is going on with the players before you place your bets.
 
There are several top teams in NCAA hockey. One such team is Minnesota State. With a .881 winning percentage, the Mavericks lead the league. They dominate the CCHA conference with 23-3-0. They also have only lost once at home and have won 20 home games so far.
Another outstanding team is the Michigan Wolverines which ranks second on the USCHO poll. The Wolverines have a .768 winning percentage this season on a 31-9-1 record. They are also 16-8 on Big Ten and 4-0 on neutral games.
Here are the top 10 teams according to the USCHO:
| | | | | | |
| --- | --- | --- | --- | --- | --- |
| Rank | Team | (First Place Votes) | Record | Points | Last Poll |
| 1 | Minnesota State | 35 | 35-5-0 | 984 | 1 |
| 2 | Michigan | 14 | 31-9-1 | 963 | 4 |
| 3 | Denver | - | 27-9-1 | 837 | 3 |
| 4 | Western Michigan | - | 25-11-1 | 799 | 7 |
| 5 | Minnesota | - | 24-12-0 | 797 | 2 |
| 6 | Minnesota Duluth | 1 | 21-15-4 | 772 | 8 |
| 7 | North Dakota | - | 24-13-1 | 695 | 5 |
| 8 | Quinnipiac | - | 31-6-3 | 679 | 6 |
| 9 | Notre Dame | - | 27-11-0 | 584 | 9 |
| 10 | Massachusetts | - | 22-12-2 | 582 | 11 |
The NCAA Hockey Championship is a single-elimination competition that is used to determine the national champion. The tournament is played by 16 teams that represent the six conferences. The winners of each conference get automatic spots, and the selection committee fills the rest. 
The teams are then divided up into four regionals - Northeast, Midwest, East, and West. Each region consists of 4 teams, and the winners are paired for the quarterfinal, semifinal, and final. The final is played in the same format, single elimination. The team that wins the final is crowned the national champion.
The NCAA Hockey tournament is on. It is currently in the Frozen Four with Michigan vs Denver, and Minnesota vs Minnesota State. Both games will start on April 8th and the championship will be on April 10th.
College hockey history can be traced back to 1892 when Malcolm Greene Chace stumbled on ice polo. This led to the creation of ice hockey, and in 1896, Chace's Yale team played the first intercollegiate ice hockey game against John Hopkins University. When the NCAA was founded in 1906, it started governing the sport at the intercollegiate level, and it has grown exponentially over the years.
Massachusetts (20-5-4), led by coach Greg Carvel, won the 2021 championship after beating St. Cloud State 5-0 in the final. Before the 2020 season was canceled due to COVID-19,  Minnesota Duluth won the 2019 and 2018 championships under coach Scott Sandelin.