Wyoming, Kent State to play against each other for Idaho Potato Bowl
December 21, 2021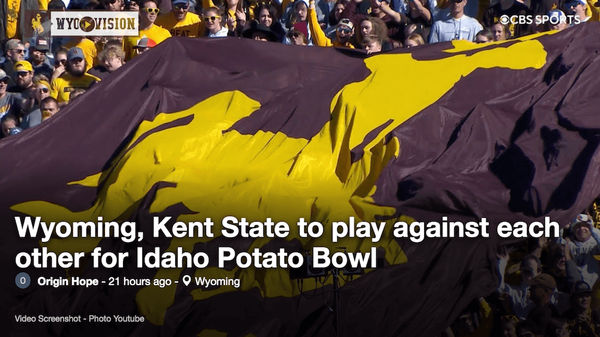 The Wyoming Cowboys are set to battle it out against Kent State Golden Flashes in the Idaho Potato Bowl next Tuesday.
The kickoff is set at Albertsons Stadium in Boise, Idaho at 3:30 p.m. ET.
Although many assume the Cowboys (6-6) will come out victorious after managing to edge Northern Illinois back in September, who then defeated Kent State (7-6) in the Mid-American Conference Champion on December 4, the result of the match might be inconclusive. Both teams have almost equal standing on winning this time around.
Different, yet equally strong
Previously, the Cowboys had to surrender to Hawaii Rainbow Warriors in its regular-season finale at 38-14. Meanwhile, Kent State lost 31-23 to Northern Illinois in the MAC conference game.
The two teams also have different styles of play. While Kent State tends to work at a fast pace under the wings of quarterback Dustin Crum, the Cowboys prefer to play at a slower pace, led by the star of Wyoming Xazavian Valladay.
The upcoming game will see running back Marquez Cooper working alongside Crum, with 6 other teammates scoring at least once this season. While Valladay will be accompanied by freshman Isaiah Neyor, who led 11 of the team's 14 receiving touchdowns.
Wyoming averages almost 30 more yards per game on the ground, although the number was mere 232.2 points during the regular season. On three occasions, they eclipsed the 40-point mark.
Score-wise, Kent State averages over nine points more than Wyoming. Four out of their past five games, they managed to settle high-score, collecting an average of 85.5 points per game. Prior to their loss to Northern Illinois, they produced 30 or more points in eight out of their thirteen games. However, the team has worse totals across the board.
Hopeful and optimistic
"I'd be less than honest with all you guys saying I know 100 percent what team is going to show up," said Cowboys coach Craig Bowl to reporters on Thursday. He's frustrated, and he'd like to take responsibility.
Wyoming lost out of three when closing the seasons, as quarterback Levi Williams only managed 204 yards of offense. It's revealed that he was playing with a bruised knee, which has since then been getting better, ready for the bowl.
"Sometimes in the midst of my angst and grinding through, I've got to remember we won six games and we beat two conference champions," added Bohl. He'd like to consider the opportunity of playing a bowl game as a reward to move forward, especially with the All-American linebacker Chad Muma who has opted to play the game instead.
A similar statement also came from the fourth-year coach of Kent State, Sean Lewis. He considers the upcoming game as an opportunity to progress forward.
"In the big picture of where we started, where we're at, and where we're going, I'm incredibly proud," said Lewis. As years go by, he finds the progress of the team as rather positive, from establishing the culture in year one (of his coaching), winning their first bowl game in year two, to going on to the big stage this year. Although they were forced to admit defeat, they've learned from their mistake and is ready to strike again.