Where Is BetMGM Sportsbook Legal? All Available States & Locations
April 21, 2023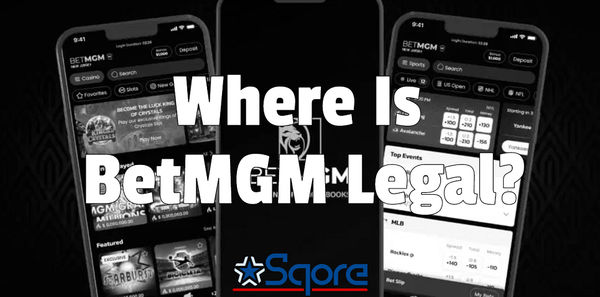 If you're a sports fan looking to start placing wagers on all your favorite sports and leagues, you may be wondering where you can legally use BetMGM Sportsbook. With the recent legalization of sports betting in many states across the U.S., the landscape of online sports betting has changed dramatically. 
In this article, we'll take a closer look at where BetMGM is currently available and what you need to know before placing your bets.
BetMGM Sportsbook & Casino is currently authorized and operational in numerous U.S. states. These states include Arizona, Colorado, Washington D.C., Illinois, Indiana, Iowa, Kansas, Louisiana, Maryland, Massachusetts, Michigan, Mississippi, Nevada, New Jersey, New York, Ohio, Pennsylvania, Tennessee, Virginia, West Virginia, and Wyoming. 
To get more detailed information, such as the specific launch date and retail partner in each state where BetMGM is legally accessible, check our comprehensive table below.
State
BetMGM Sportsbook
Online Launch Date
Retail Partner
BetMGM Casino
Arizona
✅
September 2021
Gila River Resorts & Casino
❌
Colorado
✅
May 2020
N/A
❌
Illinois
✅
March 2022
N/A
❌
Indiana
✅
February 2020
N/A
❌
Iowa
✅
January 2021
N/A
❌
Kansas
✅
September 2022
N/A
❌
Louisiana
✅
January 2022
N/A
❌
Maryland
✅
November 2022
MGM National Harbor
❌
Massachusetts
✅
March 2023
MGM Springfield
❌
Michigan
✅
January 2021
MGM Grand Detroit
✅
Mississippi
✅
September 2021
Beau Rivage Resort & Casino
❌
Nevada
✅
March 2020

Bellagio, Aria, MGM Grand, Park MGM, Mandalay Bay, 

Luxor, Excalibur, and New York-New York

❌
New Jersey
✅
August 2018
BetMGM Sportsbook & Bar
✅
New York
✅
January 2022
N/A
❌
Ohio
✅
January 2023
MGM Northfield Park
❌
Oregon
✅*
March 2021
Spirit Mountain Casino
❌
Pennsylvania
✅
December 2020
N/A
✅
Tennessee
✅
November 2020
N/A
❌
Virginia
✅
January 2021
N/A
❌
Washington
✅*
November 2022
Emerald Queen Casino
❌
West Virginia
✅
January 2020
N/A
✅
Wyoming
✅
September 2021
N/A
❌
*Note: Oregon and Washington bettors are able to use the BetMGM Sportsbook website and mobile app to place bets; however, they must be physically present at Spirit Mountain Casino in Grand Ronde, Oregon or Emerald Queen Casino in Fife, Washington in order to do so.
In addition to the states listed above, BetMGM Sportsbook is currently legal in Washington, D.C. and Ontario, Canada. BetMGM retail sports betting is also available at Tin Lizzie and Cadillac Jack's in Deadwood, South Dakota as well as at La Concha Resort in Puerto Rico. Furthermore, BetMGM Horse Racing is currently being offered to customers in Florida, Louisiana, and Ohio.
Where Is BetMGM Not Available?
The online sportsbook offered by BetMGM is not yet available in the following U.S. states:
Alabama
Alaska
Arkansas
California
Connecticut
Delaware
Florida
Georgia
Hawaii
Idaho
Kentucky
Maine
Minnesota
Missouri
Montana
Nebraska
New Hampshire
New Mexico
North Carolina
North Dakota
Oklahoma
Rhode Island
South Carolina
South Dakota
Texas
Utah
Vermont
Wisconsin
You may notice that several of the states listed above have already legalized online sports betting. This includes Arkansas, Connecticut, Maine, New Hampshire, and Rhode Island. However, as of the date this article was written, BetMGM Sportsbook has not currently launched in these six U.S. states. 
In addition, Kentucky legalized online sports betting in March 2023, and several mobile sportsbooks are expected to launch in the state in late 2023 or early 2024. Many other U.S. states are expected to do the same in the near future. As a result, it seems clear that BetMGM Sportsbook will continue to rapidly grow and expand its presence throughout the United States.
How To Get Started With BetMGM in Your State
Sports bettors in eligible states can sign up with BetMGM by following the steps listed below.
1

 Visit the BetMGM Website or Download the BetMGM Mobile App
Click here to visit the BetMGM website. You may also choose to download the BetMGM mobile app on the App Store or Google Play Store.
2

 Select Your State
You will see a list of U.S. states and other locations where BetMGM currently operates. Select your state from the list.
3

 Register for an Account
Click "Register" and begin the sign-up process. Enter your email address, create a password, and provide all other requested information (e.g., date of birth, social security number, address, and phone number). Agree to the Terms & Conditions and use the promo code SQORE1000 to claim the BetMGM welcome offer.
4

 Verify Your Identity
You may need to verify your identity by uploading a picture of your driver's license or another form of photo identification. Follow the instructions provided by BetMGM.
5

 Make an Initial Deposit
Make a deposit of $10 or more into your BetMGM Sportsbook account. You may use any of the convenient, reliable payment options available.
6

 Start Placing Bets
The deposited funds will instantly be credited to your account. You can then start placing wagers with BetMGM!
About BetMGM Sportsbook & Casino
BetMGM Sportsbook & Casino is a popular online platform that offers a wide variety of betting options to sports fans and casino enthusiasts. The online betting site is jointly owned by MGM Resorts International and Entain plc. One of the most widely available sports betting platforms in the United States, BetMGM Sportsbook is highly regarded for its incredible market depth, easy-to-use mobile app, and competitive promotions for both new and existing users.
On the other hand, BetMGM Casino is available in a limited number of states, but it provides an exciting welcome opportunity and a wide selection of games from some of the top developers in the industry. Customers of BetMGM Sportsbook & Casino will also have access to an incredible customer loyalty program that offers rewards ranging from bonus bets to hotel accommodations. Overall, BetMGM is a great option for online bettors around the country.
Where can I use BetMGM Sportsbook?
You can register for an account with BetMGM and make deposits to your account from anywhere in the world. However, you must be physically located in one of the 21 U.S. states where BetMGM Sportsbook is currently legal (AZ, CO, IN, IA, IL, KS, LA, MA, MD, MI, MS, NV, NJ, NY, OH, OR, PA, TN, VA, WA, WV, and WY) in order to place bets.
Is BetMGM Sportsbook legal in Oregon?
Yes, BetMGM Sportsbook is available in the state of Oregon. However, customers can only place wagers on the BetMGM website or mobile app if they are on the premises of Spirit Mountain Casino (i.e., BetMGM's retail partner).
Can anyone use BetMGM?
You must be at least 21 years or older, physically located in a state where BetMGM operates, and not included on any exclusion lists in order to use BetMGM Sportsbook & Casino.
Is BetMGM Sportsbook legal in Washington?
Yes, BetMGM Sportsbook is legal in Washington, but bettors must be physically present at the Emerald Queen Casino in Fife, Washington to place bets with BetMGM.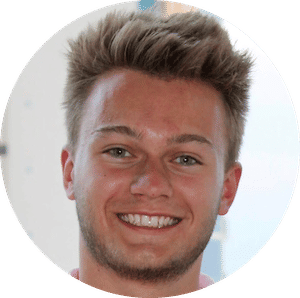 Peyton Powell
Peyton is an huge sports fan and a graduate of the University of Louisville. He has always enjoyed playing, watching, and betting on sports. Born and raised in Kentucky, a state without any professional sports teams, he had to find teams to cheer for away from home. Peyton's favorite teams include the Los Angeles Lakers, Baltimore Ravens, and Boston Red Sox.