South Carolina parts ways with Frank Martin after 10 seasons
March 15, 2022
Frank Martin was fired as South Carolina's men's basketball coach after 10 years, with the program's athletic director Ray Tanner stating that the change was made following a thorough evaluation.
He finished his 10th season with a record of 18-13, losing to Mississippi State in the opening round of the SEC Tournament.
Martin was the third longest-tenured head coach in South Carolina's history. His ten seasons came in after Frank Johnson's 14 seasons and Frank McGuire's 16 seasons.
Martin leaves with a 171-147 record in 10 years with South Carolina. His best season was in 2017 when the team made it to the Final Four. Ever since its NCAA Tournament appearance in 2017, the Gamecocks have not had appeared in NCAA Tournament again.
The team's 6-14 record last season led to speculations about his future with the program. However, he could still get a two-year contract extension through 2021.
Martin has been criticized for his fiery, scowling, and sometimes abusive sideline behavior. He was suspended for yelling profanities at a player in his second season.
Looking for replacement
Following Martin's departure, the athletic department of South Carolina started the search for a new coach. The program has only made two appearances in the NCAA's Big Dance in the past two decades.
Potential candidates for the job include Mike Boynton of Oklahoma State, Murray State's Matt McMahon, and former South Carolina player and current Wake Forest assistant coach BJ McKie.
Tanner noted that the school's goal is to win championships in the SEC and beyond. He stated that the ideal candidate would have a winning track record and passion for the student-athlete experience.
"Our expectation is to compete for Southeastern Conference and national championships," the 63 years old athletic director said.
"We have great facilities, a passionate fan base and we provide our student-athletes an outstanding experience at the University of South Carolina. We will hire someone with a winning coaching history, who has the energy, passion, and commitment to excellence in all areas of the student-athlete experience."
Will top-recruit GG Jackson remains interested in South Carolina?
Sources noted that South Carolina was considered the favorite to get Jackson, a Columbia native. During an official visit to Columbia last month, the top-rated prospect in the Class of 2023 narrowed his list down to six schools.
Shortly after the news about Martin's departure broke, Jackson posted a broken-heart emoji on his social media account. However, he later deleted it from his account. He said he hopes Martin will still be the coach of the team.
The 6-foot-8 power forward said he might make a college decision in the next few weeks. Although he doesn't know when he'll decide, Jackson said that he doesn't want to rush into anything. He noted that now that the season has ended, it's time to focus on what's important to him.
"Honestly, I don't know. This is a big decision and I don't want to rush it," the 210-pound player said. "My dad has never told me anything wrong. He said you got to pray about things because you don't want to rush into it. Your basketball season just ended, so now this is your time to ease your mind, relax and focus on what you want to do. I just take it as wisdom."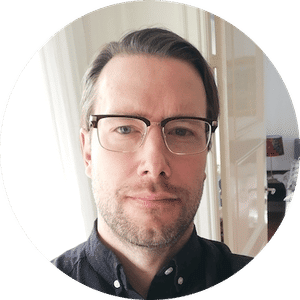 Martin Efvergren
Martin is a sports betting professional who provides initiated betting picks and predictions. His primary focus is on NHL picks, sportsbook promotions, and casino stories.