NCAA First Four: Holden's double-double leads Wright State to beat Bryant 93-82
March 17, 2022
On Wednesday, Wright State defeated Bryant University's men's basketball team 93-82 in the NCAA's First Four match held in Ohio. The Raiders' star player was Tanner Holden, who had a double-double with 37 points and 11 rebounds. Holden carried his team to the next round to face Arizona.
The match featured a fast-paced game. According to Wright State's head coach Scott Nagy, the teams' dynamic play caught him by surprise.
"It was a frantic-paced game. We haven't had many teams this year come at us like that just after every make and miss and turnover," coach Nagy stated.
Following Holden, guard Trey Calvin chipped in 21 points, five rebounds, four assists, and two steals. Forward Grant Basile also had a stellar performance with 14 points, eight rebounds, and three blocks.
Wright State contains Bryant's strategies
The biggest question heading into the match was whether Wright State's defense would hold up against Bryant's dynamic duo of Charles Pride and Peter Kiss. The latter leads the nation in scoring with 25.1 points per game.
While Wright State managed to steal a victory, containing Kiss and Pride was not an easy feat. Wright State managed to limit Pride's movement to score only eight points. But, the top-scoring guard still racked 28 points for Bryant.
Bryant's head coach Jared Grasso noted that his players did their best, but they still came short of securing a victory. "Our guys played hard enough to win, we just didn't play well enough to win," he said.
The Raiders outscored the opposing team in the first half. Holden led the Raiders with 20 first-half points. Bryant struggled to contain him in the half-court during that period, which resulted in numerous easy shots from the free-throw line.
During the first half, Holden took over the game for the Raiders while Pride struggled from the field, missing his three-point shots. Wright State also pressured Kiss whenever he had the ball resulting in his 3-of-10 shooting.
Bryant was still within striking distance of the Raiders before Pride got into foul trouble. That caused Wright State to take a commanding lead.
Solid defense
The Bryant offense struggled to score in the second half due to the Raiders' defense. The team shot an ugly 4-of-24 from three-point range.
Aside from limiting Kiss' efficiency, Wright State's Tim Finke also contributed to the team's success by guarding him. This helped the Raiders maintain their lead.
"Tim's a fantastic defender. We've known that all year. He made him work for it," Basile praised his teammate.
Wright State's Trey Calvin was also able to contribute with a step-back three that gave the Raiders a double-digit lead.
Holden continued to lead the team in scoring, while Calvin provided support and helped the team maintain its lead. After the game, the Wheelersburg native said that the team's victory was a significant boost. He also noted that the crowd helped the team play well.
"I think it was definitely a good booster for us," Holden stated. "Emotionally, I thought the crowd did a great job being energetic and getting into it. It's awesome to be able to do this, like Grant said, in your backyard."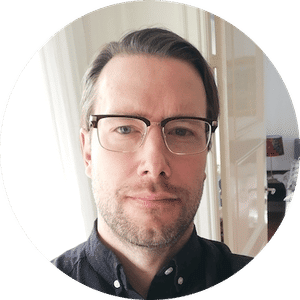 Martin Evergreen
Martin Evergreen is a sports betting professional who provides initiated betting picks and predictions. His main focus is on NHL picks, sportsbook promotions, and casino stories.