Michigan Wolverines rookie Caleb Houstan turns down NBA Draft Combine
May 11, 2022
Michigan Wolverines rookie Caleb Houstan has been invited to the NBA draft combine. However, the former five-star prospect, who is considering a career in the NBA after his freshman year at the University of Michigan, rejected the invitation. He will also not participate in the NBA G League Elite Camp, according to ESPN's Jonathan Givony.
The NBA announced Tuesday the list of players who would participate in the Combine, which will take place in Chicago from May 16 to 22. All 30 teams will be represented at the combine. In order to ensure that the best players are invited, teams submit a list of players with the highest odds every year.
On that list, only Moussa Diabate is a former Wolverine. Without an official statement from Houstan, little is known about why the wing declined the offer.
Speculations
As Givony and others have indicated, Houstan might have been guaranteed a roster spot by an NBA team.
NBA front offices vote to select players, so Houstan's invitation indicates that teams are intrigued by the freshman's potential. Despite his inconsistent performance at Michigan, he displayed glints of potential with pre-college tapes from Montverde Academy and Team Canada.
Jeremy Woo from Sports Illustrated also shared his opinion about Houstan's refusal to participate. He said there was no reason for him to attend the Combine as long as he had a guarantee that works with his development plan, in a system that worked for him, and with an enthusiastic general manager who was willing to take the risk.
On the other hand, fans have argued that going back to Michigan is the most sensible option. It allows Houstan to return to Ann Arbor with a list of things he needs to concentrate on for his games and an offseason to refine his athleticism, perhaps in a manner similar to what Franz Wagner did in his second year with the program.
It could also be that he had decided to take the risk and not return to school in the hopes of finding a good contract. Houstan has 10 days or until June 1 to withdraw his name if he wishes to return to college.
Performance record
The 19-year old player was one of two Wolverines to start all 34 games in 2021-22, along with Eli Brooks. He averaged 10.1 points per game and four rebounds, and 1.4 assists, with 17 of his games being in double figures. He is the Wolverines' all-time leading scorer with 60 3-pointers.
He became better as the season went on, shooting 35.5 percent from deep. Much like Moussa Diabate, he was a five-star recruit who performed well as a true freshman.
Houstan was an exceptional long-range shooter at the Crisler Center, where he made 47.7 percent of his attempts. In 19 road and neutral-site games, however, he shot just 27.8 percent from beyond the arc, including a 1-for-8 performance in the Round of 32 and Sweet Sixteen of the 2022 NCAA Tournament.
"Caleb is a shot-maker," associate coach Phil Martelli said earlier. "He came in here as a shot-maker. He has worked his tail off. I mean, everybody here knows he's a kid that's coming in and shooting once, twice a day and then practicing."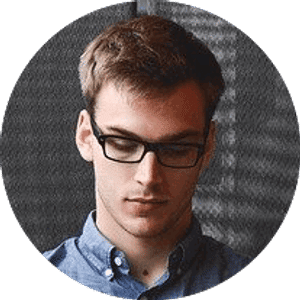 Jake Williams
Jake Williams is a sports gambling expert. He's been writing in the sports betting and DFS industry for over a decade. He specializes in MLB and NBA, along with College Basketball and College Football.