49ers' Mike McGlinchey trolls Rams' Jalen Ramsey over failed tackle on Deebo Samuel
October 5, 2022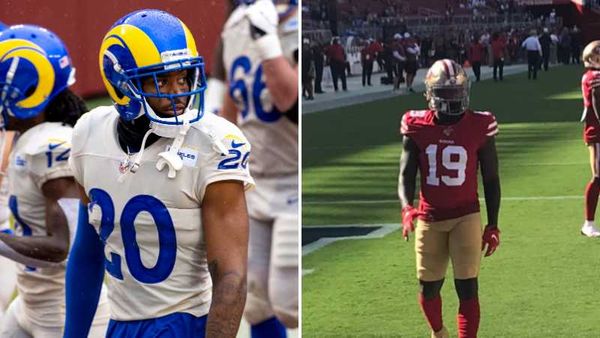 San Francisco 49ers offensive tackle Mike McGlinchey could not hold back and decided to troll cornerback Jalen Ramsey during San Francisco's Week 4 victory against the Los Angeles Rams. McGlinchey made jokes directed at Ramsey after his failed attempt to tackle 49ers wide receiver Deebo Samuel, who had a successful 57-yard touchdown run in the second quarter.
After Samuel racked in points for the team, McGlinchey approached Ramsey and pointed toward the WR as he celebrated the touchdown run. Both players then could be seen having a short conversation before Ramsey pushed the offensive tackle back.
It remains unknown what McGlinchey told Ramsey at the time. However, Samuel was confused after seeing the failed tackle attempt. In the end, he had a good laugh at Ramsey's tackle.
"Yeah, I don't know what he was doing out there. I just went right by him. He was just backpedaling. I was like, 'What's going on?'," he said.
Samuel wrapped up the matchup with six receptions for 115 yards. His 57-yard touchdown became the most memorable feat of the game.
Joining McGlinchey in the trolling department, Samuel also had a fair share of making fun of the opposing players, especially Ramsey. The 26-year-old WR posted a celebratory post on Tuesday with the caption "Shut The Lights Off BOOGYMAN."
Ramsey and Samuel will meet again on October 30 at the Rams' home turf SoFi Stadium.
49ers strong comeback
Both the 49ers and Rams are now 2-2 this season. The victory for the former was a much-needed one after Week 3's defeat to the Denver Broncos. The franchise now also has witnessed its main pieces working well on the field, especially veteran quarterback Jimmy Garoppolo.
The 30-year-old threw 16 successful passes out of 27 attempts for 239 yards on Monday. All of these led to the team's margin-wide 24-9 win over the reigning Super Bowl champion. For Garoppolo, this came after an exhausting schedule over the past week, especially after the team's loss in Denver.
"Hell yeah. But when you go through a tough week like that it makes this feel a lot better at the end," Garoppolo said. "We've been in this situation before. It's a roller coaster this season. You've just got to ride the highs and lows and stay in the middle as much as you can. That's how you get success in the end."
For the former New England Patriots player, playing starter for the 49ers is a slightly difficult job for him this season, considering that he missed out on a huge chunk of the offseason due to his shoulder surgery. Regardless, Garoppolo is trying to get back to his top form ahead of an October 9 matchup against the Carolina Panthers.
"I think every week I'll keep feeling better and better. The shoulder, it's tough during the season to get it right, but we've got a long season ahead of us. Hopefully every week it'll get better and better," Jimmy G said.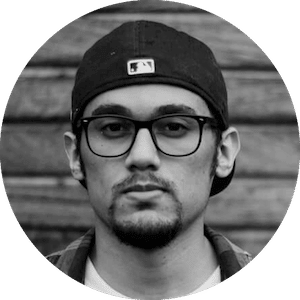 Gus Anderson
Gus Anderson is a gambling wizard. As a kid he dreamt about becoming a Tennis, Hockey and Golf professional but ended up as a gambling professional with focus on both sports & casino.