DraftKings Sportsbook Promo - Get a Stepped Up Same Game Parlay on NFL
August 22, 2022
With the NFL new season starting next month, the sports betting market will again be inviting the loyal sports enthusiasts and fans of the National Football League, to enjoy the performances of their favorite teams and players, through betting on the games all throughout the 18 weeks of the NFL season.
Among the various bet types available for the NFL is the parlay bet, where bettors can expect increased winnings by placing multiple conditions to be fulfilled in order to win. Particularly, the same-game parlay (SGP) bet type is steadily gaining popularity as a recreational bet type among many bettors and fans alike.
With this in mind, DraftKings Sportsbook now offers a specific promotion for SGPs on NFL, aptly named Get A Stepped Up SGP on NFL. Available for all new and existing users, the promo offers special profit boost tokens named Stepped Up Tokens which will increase your winnings should you win your parlay wager.
DraftKings Sportsbook Promo - Get a Stepped Up Same Game Parlay on NFL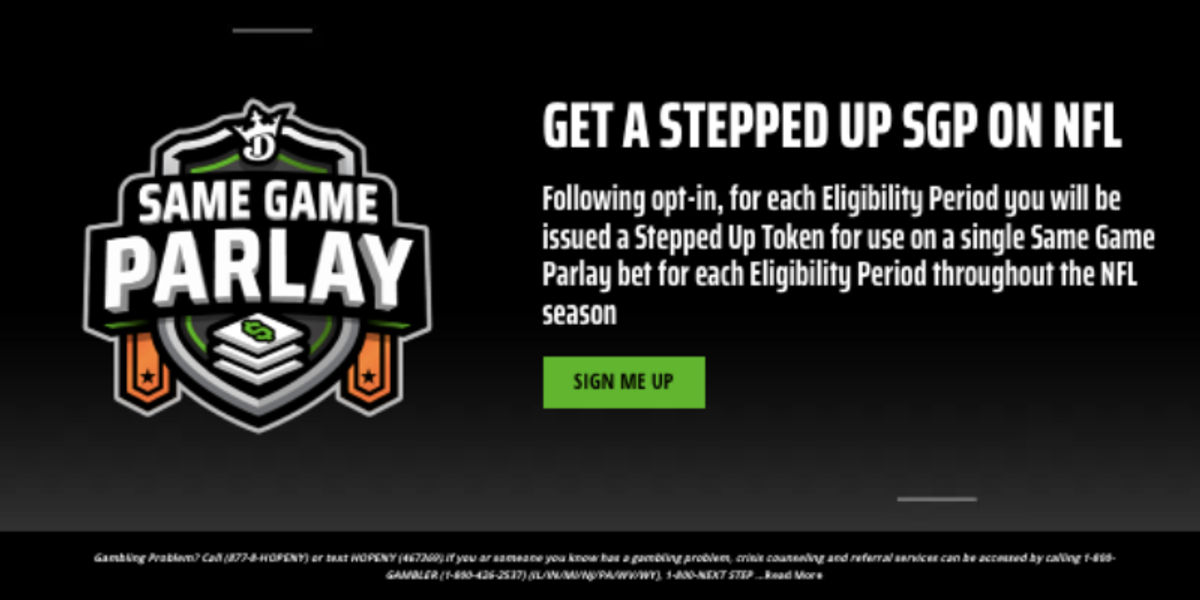 Adding to the hype of the upcoming NFL season, DraftKings Sportsbook offers a special NFL Promo on Same-Game Parlay SGP) wagers. All DraftKings users, old and new, can opt in for the promo and get provided Stepped Up Tokens to use on Same-Game Parlay bets.
Promo Offer:
Get A Stepped Up Same-Game Parlay on NFL
Promo Code:
NONE NEEDED - Just Click Here
Promo Dates:
Ongoing
Min. Deposit
$1
Eligible States:
AZ, CO, CT, IA, IL, IN, LA, MI, NH, NJ, NY, OR, PA, TN, VA, WV, WY
T&C

Must be 21+ or 18+ (NH, WY) or 19+ (CA-ON)
Users must opt-in to participate in the promo.
Stepped Up Tokens will be provided for users on different eligibility periods.
The Same-Game Parlay bet being applied to the Stepped Up Token will not be applicable for other offers and promotions.
About DraftKings Sportsbook Promo - Get a Stepped Up Same Game Parlay on NFL
Bettors for the NFL can now enjoy more boosts in wagering for Same-Game Parlay bets. As this promo offer is available for both old and new users, practically everybody can enjoy it. For new bettors interested in trying the boost provided by the Stepped Up Tokens for NFL SGPs, they can sign up to DraftKings using our link above.
A user needs only to opt-in into the promo when prompted, and they will be issued a minimum of one Stepped Up Token to use on any NFL Same-Game Parlay cash wagers, prior to the game's start. There is maximum bet limit for this promo, which is between $50, $100, $250, $500 or $1000 depending on the users cohort. That being said, there is also a chance that your account can be issued more than one Stepped Up Token.
The Stepped Up Tokens will expire as soon as the NFL match goes into play. To use the Stepped Up Token, users must first select the token before placing their bet.
How to Claim DraftKings Get A Stepped Up on NFL Promo
How to Claim DraftKings Stepped Up Tokens on NFL SGPs
DraftKings Sportsbook gives Stepped Up Tokens to use on NFL Same Game Parlay bets through a few simple steps as follows.
1

 Visit DraftKings Sportsbook website.
Click the link on the promo table above to go to the DraftKings landing page with the offer displayed.
2

 Sign up or login.
Users signing up will be taken through the sportsbook verification page to verify their location. DraftKings Sportsbook will need access to details like the last four digits of your Social Security Number. Existing users can simply log into their DraftKings account.
3

 Complete the registration as a new user.
Once the user registers and verifies, a pop-up will inform them about the promo on NFL Same Game Parlay Stepped Up Tokens, and the option to opt into participating. Existing users logging in will find the popup immediately after they successfully log in.
4

 Opt in for the promo.
After opting in the user will soon be issued the Stepped Up Token(s) to use on NFL Same game Parlay bets.
About DraftKings Sportsbook
DraftKings Sportsbook is a name that you can trust when it comes to legal online sports betting. Starting its business in 2012, DraftKings has grown into a high-quality betting site that offers many betting activities for both new and experienced users.
Bettors in Kansas State will be able to bet on any number of games and leagues, especially the major US sport. There are some big clubs within the state, including MLB's Kansas City Royals, NFL's Kansas City Chiefs, and MLS' Sporting KC.
Bettors can enjoy many options of betting odds, like Moneyline, spread, parlay, and many more. The opportunity will let users combine more than one market into a single bet with better odds. Bettors in Kansas can enjoy various promos that will be available to claim, including the Kansasl launch specials: $100 Free Bet and $100K Free Bet Sweepstakes Promo.
IS WAGERING ON DRAFTKINGS LEGAL?
Yes, it is legal in all of the states where DraftKings does business. Shortly, the sports betting site is expected to go live in Kansas State, and bettors who are within the state can register themselves to place the bet.
WHAT ARE THE MINIMUM AND MAXIMUM BETS AND DEPOSITS ON DRAFTKINGS?
DraftKings has bet minimums as low as $1, so players of all budgets can participate. Only $5 is needed to make a deposit. 
ON WHAT DEVICES CAN I ACCESS DRAFTKINGS?
You can use DraftKings on your PC, in a web browser, or by downloading the app on your phone, tablet, or other devices. 
CAN I USE OTHER DRAFTKINGS PROMOS TOGETHER WITH THIS ONE?
Based on DraftKings terms and conditions, only one promo can be used at one time. For example, you can only use one Free Bet in any one transaction when placing your bet.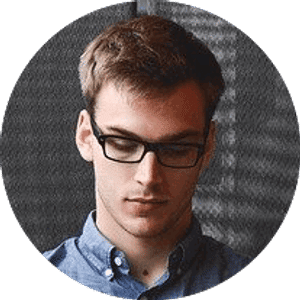 Jake Williams
Jake Williams is a sports gambling expert. He's been writing in the sports betting and DFS industry for over a decade. He specializes in MLB and NBA, along with College Basketball and College Football.