As with most other sports, betting on college football is quite straightforward. However, there are several things you have to consider to ensure you are placing the right kind of bet at the right time. For starters, you should choose a good sportsbook that offers the best odds. 
The reason for this is simple. Choosing a top sports betting site for college football betting, such as those we recommend, means that you will enjoy a great experience. You will have access to a wide range of betting markets such as Moneyline bet and against the spread bet. You will also enjoy numerous incredible bonuses that can help boost your bankroll. 
In addition, playing at a licensed sportsbook will give you the peace of mind that you are in safe hands.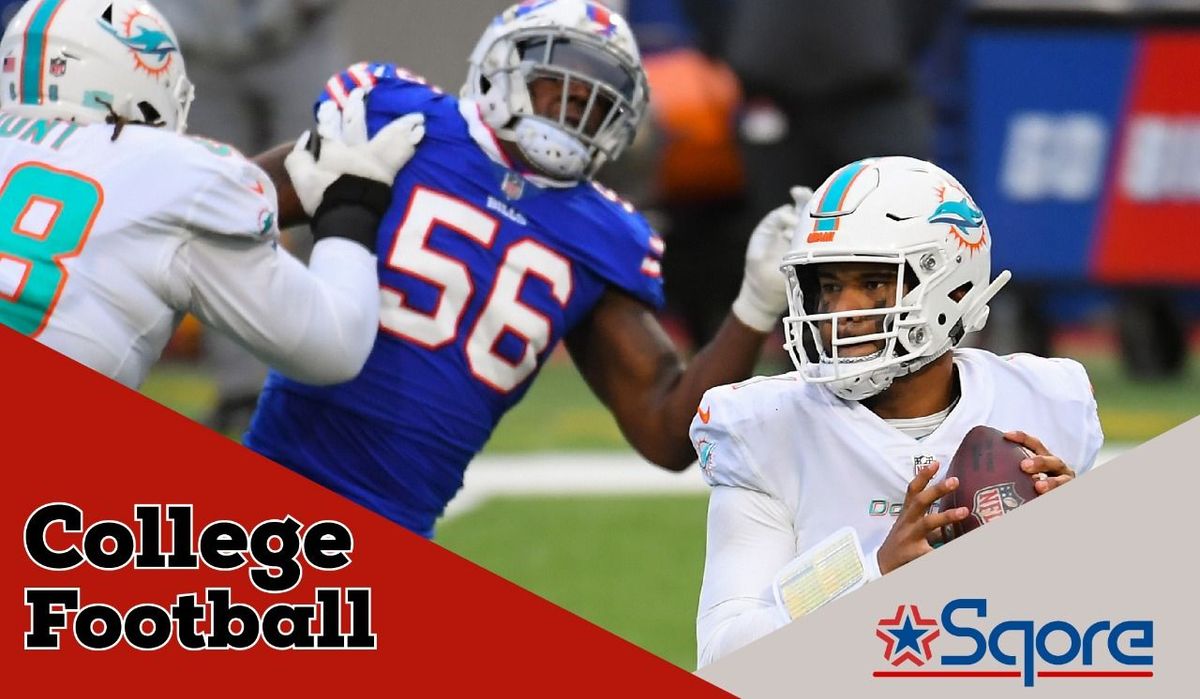 As a bettor, you must know the different betting markets available in college football and how they work. This will help you understand the best predictions to go for relative to the operator's odds for the game. There are several betting markets available for players to choose from at top sportsbooks, and we've explained a few of them below.
Moneyline Bet
This is probably the most straightforward betting market available for any sports. When you place a Moneyline bet on a collegiate event, you are simply wagering on one of the two teams in the match to win. In most cases, you will also be able to bet on the game's outcome to be a tie. The Moneyline bet is especially common when a favorite team is playing against an underdog.
Against the Spread Bet
The sportsbook gives a team a positive or negative advantage in this betting option. When you bet against the spread, the team you are wagering money on has to win more than the point spread before you can win. For instance, if you bet on a team with a point spread of -4 points. The team must win the game by a margin of at least 5 points for your bet to win.
Totals Under/Over Bet
Another type of bet available for college football is the totals under/over chance. You simply predict the total points scored in a game to be under or over a value that the sportsbook has specified in this betting option. For instance, you can bet on the total points that one team will score in an NCAA game to be over 23.5.
Proposition Bets
So far, the betting markets we have discussed are traditional markets. But besides those, top college football betting sites in the US also offer proposition bets. This is a unique betting option that has nothing to do with the overall outcome. For example, you can bet on the home team to be the first to score a point. You can also bet on other options such as the player of the tournament and so on.
Teasers
As with most other sports, you can place teaser bets for college football events. Teasers work like parlays in that they allow you to combine multiple events to form a single betting slip. However, teasers will enable you to adjust the game's point spread, and their payout is usually smaller than parlays.
While it is true that you can bet on sports, including college football, at any time, you need to be aware that the odds, as well as the potential outcome of a match, can be affected by many things. First, avoid being a passionate gambler, leading to losses. It is best only to bet when there is an excellent reason. 
That said, before you go for any betting market in a game, you should endeavor to conduct your analysis. This includes checking the team news for injuries, head-to-head statistics, current form, pitch condition, fatigue, etc. At Sqore, we have expert tipsters who know what to look for to select the best NCCA picks with high winning possibilities.
Generally, players have two options when placing a bet on college football events. First, you can place future bets, which involves wagering your money on an event scheduled later. After you've analyzed a game, you can wager money on days or weeks before the match is played. 
The second option is live betting, available at many top online sportsbooks in the US. With live betting, you are wagering money on an event currently in play. The beauty of this option is that you can use the current happenings of the match to predict the outcome of the best type of bet to place. Regardless, it is always essential that you analyze the game based on the facts you have at hand before you decide to place a bet.
Some players often prefer placing bets early since they can use head-to-head information and other statistics to make an informed selection. Nevertheless, others prefer placing bets late. The good thing about betting early is that you can take advantage of the best odds before it starts to drop. This is especially true when a favorite team is playing against an underdog. 
However, injuries in training sessions and other factors can affect the teams after you have placed your bet. Thus, some bettors prefer waiting till the last moment to place their bets, even if this means taking low odds.
What to Look for When Betting
As we pointed out previously, you need to consider a couple of things before deciding to bet on a particular college football team in the NCAA. Below, we have extensively explained some of these factors and how they can affect your predictions.
Home Field Advantage: As with many sports, most teams have an advantage when playing at home. After all, they practice and are used to their home pitch. So before you place any bet, you want to check how historically strong a team is on its home turf. Also, consider that fans can play a critical role in boosting players' morale. If a team is playing at home, more fans will likely be present to cheer them on.
Weather and Conditions: Another critical factor to consider before placing a bet on college football is the weather conditions. Poor weather can make it difficult for players to catch a pass and kick. This, in turn, can lead to fewer points being scored. Some top teams may also be unable to perform as expected due to poor weather.
Rivalries: Although only a few games are played in the CFB season, some count more than others. Some teams are heated rivals, which makes games between them tougher to predict. So if you are going to be wagering money on an NCAA team, make sure to check if the game is against a rival.
Offensive Efficiency: This is the ability of a team to finish drives. This can help you spot which teams can cover a spread or score more points in a game. As a general strategy, tipsters check the offensive and defensive efficiency before predicting totals under/over bets.
Defensive Efficiency: The defensive efficiency of a team can tell you if they will concede more points in an encounter. Teams with higher defensive efficiency usually conceded lesser goals compared to those with lower efficiency.
Injuries and Player Factors: Before the kickoff of any college football game, teams usually provide their roster, which shows the players that will feature in the encounter. Taking a look at this information can help you in deciding whether to bet on a team or not. If a star player in a team is absent due to injury or rift with the coach, it may affect the outcome of their game.
Points Per Play (PPP): Checking the average PPP of a team before betting on them can give you an insight into how many points you can expect them to score. For instance, a team with a high PPP will almost likely beat a team with a low PPP.
Despite the different factors we've mentioned above, you should be aware that the outcome of any college football game can tip either way. However, at Sqore, we provide the best tips and information that can help improve your chances of winning. So why not check out our betting picks today?
How to Bet
As we stated earlier, the first step to betting on college football is selecting a top sportsbook. Once you create an account with the sports betting site, fund the account using one of the available payment options. After that, head over to the sports section and click on football. 
You will then see the operator's available college football leagues and the betting markets open. Make your selection and enter the amount you want to wager. Here is a step guide of the betting process:
1

 Select sportsbook
Choose a top sportsbook such as those recommended in the toplist below
2

 Register Account
Create an account with the sports betting site
3

 Fund Account
Fund your account using one of the deposit methods supported
4

 Find College Football at Sportsbook
Click on American Football in the sports section of the betting site. Select one of the college leagues like the NCAA. Fill the betting slip with your predictions while considering the markets and odds. Enter the wager amount and place your bet
There are several college football teams in the NCCA, but some perform better than others. According to the current NCCA rankings, Alabama is ranked first as the top and biggest college football team (1525 points). The team plays in the SEC West Conference and has produced great players, such as Joe Namath, Cornelius Bennet, and Derrick Thomas. Presently the head coach of the team is Nick Saban, and he has led Alabama to win a couple of major titles and the C0llege Football Playoff championship title in 2017.
Another top team that ranks second in the NCCA ranking is the Ohio ST. With 1463 points, the team was able to topple Clemson, currently third in the NCCA rankings 2020. Ohio State Buckeyes plays in the Big Ten conference and has won 39 conference titles over the years. Presently, the team's head coach is Ryan Day, and their home games are played at the Ohio Stadium.
Apart from the teams we've mentioned so far, other teams rank well in the NCCA. Below are the top 10 teams.
Alabama (61) 13-0 - 1525 points - SEC West Conference
Ohio ST 7-1 - 1463 points - Big Ten East Conference
Clemson 10-2 - 1378 points - Atlantic Coast Conference
Texas A&M 9-1 - 1324 points - SEC West Conference
Notre Dame 10-2 - 1279 points - Atlantic Coast Conference
Oklahoma 9-2 - 1243 points - Big 12 Conference
Georgia 8-2 - 1144 points - SEC East Conference
Cincinnati 9 -1 - 1074 points - American Atlantic Conference
Iowa ST 9-3 - 1035 points - Big 12 Conference
Northwestern 7-2 - 893 points - Big Ten West Conference
Unlike what some people think, the NCAA football schedule is pretty straightforward. First, there are the Conference Games. Here, teams in each conference play against each other. For most conferences, they play eight games in total. There are also non-conference games as part of the college football schedule.
College Football Team Playoff
After the last seven weeks of the regular season, the Selection Committee, which consists of 13 experts, will release its top 25 teams. This is based on different factors such as head-to-head results, the strength of schedule, and relative conference superiority. The top four teams in the poll are matched together to play the National Semifinals playoffs, and they can come from any conference. 
Six different bowl games rotate as host of the semifinals - Sugar Bowl, Rose Bowl, Peach Bowl, Fiesta Bowl, Orange Bowl, and Cotton Bowl. The semifinals winners will play the National Championship game, where the winner will go home with the trophy.
As for the other bowl games, the Selection Committee will choose the most compelling matchups possible. The champions of the five big conferences and the highest-ranked champion among the not-so-big conference will get an automatic spot. The committee's top remaining teams fill the other spots.
College football history can be traced back to 1869 with the first game between the College of New Jersey (Princeton University) and Rutgers University. However, it was not until 1936 that the Associated Press (AP) ranking began. The rankings originally included 20 teams, which helped determine the college football champion. 1998 saw the creation of the Bowl Championship Series (BCS), where the top 10 college football teams were matched up. The top two at the end of the season play the BSC National Championship.
In 2014, the College Football Playoff (CFP) was created to replace the BCS. The CPF committee ranks the top 25 college football teams without personal preference. The top four teams in the ranking play in a playoff in the format below:
First-Ranked Team vs. Fourth-Ranked Team - Semifinals 1
Second-Ranked Team vs. Third-Ranked Team - Semifinals 2
Winner Semifinals 1 vs. Winner Semifinals 2 - National Championship Game
The first team to win the CFP National Championship game is Ohio State. However, Alabama holds the record for the most wins, winning the championship game three times since its inception. Here are some notable historic moments in college football that you should know.
1869 - First college football game
1876 - First college football rules
1935 - First Heisman Trophy
1939 - Start of college football ranking (Associated Press poll)
1963 - First use of instant replay
1998 - Creation of the Bowl Championship series
2014 - Creation of the College Football team playoff