Avalanche trounce Blues in Game 3, take 2-1 series lead
May 22, 2022
The Colorado Avalanche took down the St. Louis Blues 5-2 in Game 3 of the NHL Western Conference Second Round at Enterprise Center on Saturday. With the victory, Colorado has a 2-1 lead in the best-of-seven series.
Jordan Binnington of the Blues left the game early in the first period due to a lower-body injury. The Blues, who had just won Game 2 4-1, were up 1-0 when the injury occurred. Defenseman Colton Parayko scored the game's first goal on a 98-mph slap shot.
Binnington, who gave up four goals on 85 shots during Games 1 and 2 of the series, went down at 6:45 after being bumped by teammate Calle Rosen and Avalanche forward Nazem Kadri, who went hard after a rebound.
"I just see a loose puck, really," Kadri said. "I mean, I was kind of just sitting behind him and just tried to poke it with my stick, and I think their defenseman kind of collided with me and pushed me into him. So you know, had that not been the case, I don't think I would have hit him at all. It's a loose puck. I'm just trying to bang it in."
"It's always tough," Blues captain Ryan O'Reilly said. "Obviously, 'Binner's the heart and soul, playing unbelievable, but I think it kind of took the momentum away and took us a little too long to kind of get it back going again. Things like that happened. We're a deep team, and we could have done a better job of getting the momentum back and adjusting."
Kadri scored a goal and had an assist, Artturi Lehkonen netted two goals, and Darcy Kuemper recorded 29 saves for the Avalanche, the top seed from the Central Division.
"I thought we were a little tentative out of the gate," said Colorado Avalanche coach Jared Bednar.
"And then as we kind of got playing a little bit, just every minute got a little bit better and got ourselves into the game. Not the ideal start you want. You could sense a little nervousness, but I give our guys a lot of credit for playing through that. Darcy came up with some big saves for us when we needed them tonight, because we had some breakdowns, especially at the end of the second."
Avalanche vs Blues game recap
As soon as Ville Husso replaced Binnington, Logan O'Connor tied the game 1-1 for the Avalanche. Two more goals put Colorado ahead 3-1 in the second period.
The Avalanche scored two late goals to win 5-2, shutting out the Blues in the third period. Gabriel Landeskog scored just as Husso attempted to get back to the net after getting off for an extra attacker, and Lehkonen added his second goal of the game on an empty-net goal to complete the scoring.
To the dismay of the crowd at Enterprise Center, Kadri beat Husso first. Four minutes later, Lehkonen added to the Avalanche's lead with two goals. The Blues got one back at the end of the third, with O'Reilly netting his seventh goal of the playoffs.
The Avalanche and Blues will face each other again in Game 4 which takes place at 8:30 p.m. on Monday at the Enterprise Center.
Read more about all the best NHL sportsbook promos currently available.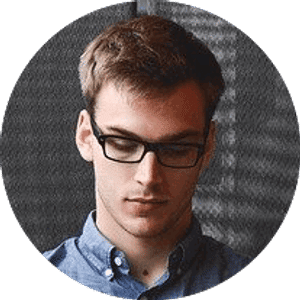 Jake Williams
Jake Williams is a sports gambling expert. He's been writing in the sports betting and DFS industry for over a decade. He specializes in MLB and NBA, along with College Basketball and College Football.