Former Alabama linebacker Drew Sanders transfers to Arkansas
January 18, 2022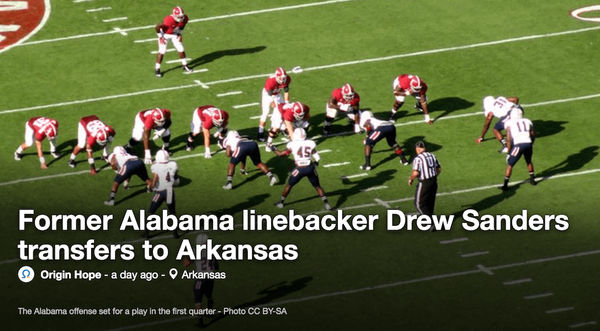 On Sunday, the University of Arkansas added two transfers from SEC opponents. One of these was Drew Sanders, who announced that he would be transferring to Arkansas on January 16.
Former Alabama linebacker Drew Sanders, who started three games during his two seasons with the Crimson Tide, transferred to Arkansas. He is expected to have three years of eligibility remaining at the school.
Sanders visited Arkansas, Oklahoma, and Texas this week. Arkansas linebackers coach Michael Scherer did a good job persuading Sanders to join his squad instead of the other two. Sanders is expected to enroll in classes on Tuesday.
Sanders joins former LSU and Oklahoma receiver Jadon Jackson as transfers to the Razorbacks this offseason.
Sanders at Alabama
Sanders, a linebacker from Texas, committed to Alabama over offers from various schools, including USC, Georgia, Notre Dame, Penn State, and Oklahoma. He was regarded as a 4-star prospect by ESPN.
During his time with the Crimson Tide, he had his best game against Florida in 2021. He had 6 tackles, a tackle for a loss, and one QB hurry.
Following the loss to Georgia in the national championship game, eight Alabama players, including quarterback Paul Tyson and outside linebacker King Mwikuta, entered the NCAA transfer portal. Sanders was among the eight players to pull out of the program.
As for the other five players, receiver Javon Baker, OL Jahleel Billingsley, TE Tommy Brown, and linebackers Shane Lee and Jaylen Moody still do not have a transfer destination.
Arkansas other high-profile transfer
Former LSU corner Dwight McGlothern announced that he would transfer to Arkansas on Sunday, a few hours after Sanders' announcement. Before the six-foot-two, 186 pounds corner's transfer announcement, he arrived in Fayetteville on Saturday noon for an official visit.
McGlothern was a sophomore at LSU in 2021. Before committing to LSU, he had been offered by various schools, including Arkansas, Michigan, Florida, Ohio State, Oklahoma, Southern Cal, and Alabama.
In his signing to Arkansas, Razorbacks cornerbacks coach Sam Carter played a significant role in landing the former four-star ESPN recruit from LSU.
McGlothern started in six games and had 32 tackles. He also returned an interception for a touchdown during the win over Florida.
McGlothern is the second player from LSU to transfer to Arkansas this offseason, following the addition of defensive lineman Landon Jackson.
Jaxon Player, a defensive tackle from Texas, visited Arkansas over the weekend and chose to stay in-state instead of looking for other schools.
Texas Longhorns: Another team that wanted Sanders
The Texas Longhorns were in an excellent position to land Sanders, but they couldn't pull it off.
The Horns offer Sanders the opportunity to play early, but they also provide familiarity with the coaching staff, including offensive coordinator Kyle Flood and head coach Steve Sarkisian.
Texas special teams coordinator Jeff Banks is also known to have a good relationship with Sanders. During his time with the Crimson Tide, he was instrumental in helping Sanders become a special teams player of the week.
Texas also couldn't land former Las Vegas linebacker Jacoby Windmon, ultimately transferring to Michigan State.
Future odds on the CFB Championship 2023
Do you miss the betting action on CFB? Don't worry, Fanduel Sportsbook has already listed the odds for the winner of next year's College football championship. 
| Team | Odds |
| --- | --- |
| Alabama Crimson Tide | +200 |
| Georgia Bulldogs | +250 |
| Ohio State Buckeyes | +800 |
| Clemson Tigers | +1000 |
| Texas A&M Aggies | +4000 |
| Oklahoma Sooners | +4000 |
| Michigan Wolverines | +4000 |
| Oregon Ducks | +4200 |
| USC Trojans | +5000 |
| Florida Gators | +5000 |
| Miami Hurricanes | +6000 |
| Tennessee Volunteers | +8000 |
| Penn State Nittany Lions | +8000 |
| Wisconsin Badgers | +8000 |
| Notre Dame Fighting Irish | +8000 |
| Kentucky Wildcats | +10000 |
| North Carolina Tar Heels | +10000 |
| Texas Longhorns | +10000 |
| Washington Huskies | +10000 |