FanDuel Kansas Pre-Live Offer - $100 in Free Bets on Launch Day!
August 8, 2022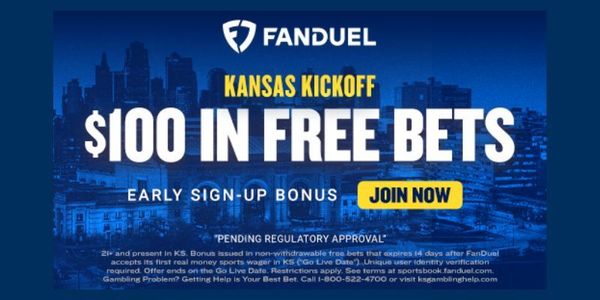 It's just a matter of time before Kansas launches its legal online sports betting market, and FanDuel Sportsbook has its sights set on becoming the market leader. Since August 4, FanDuel has been running its first Kansas sports betting pre-launch offer, so all Kansas sports bettors should take note.
Pre-registered FanDuel users in Kansas will receive $100 in free bets when FanDuel finally launches in the state. Registering using the links on this page is all you have to do to claim the offer.
Kansas Pre-Live Offer – $100 in Free Bets on Launch Day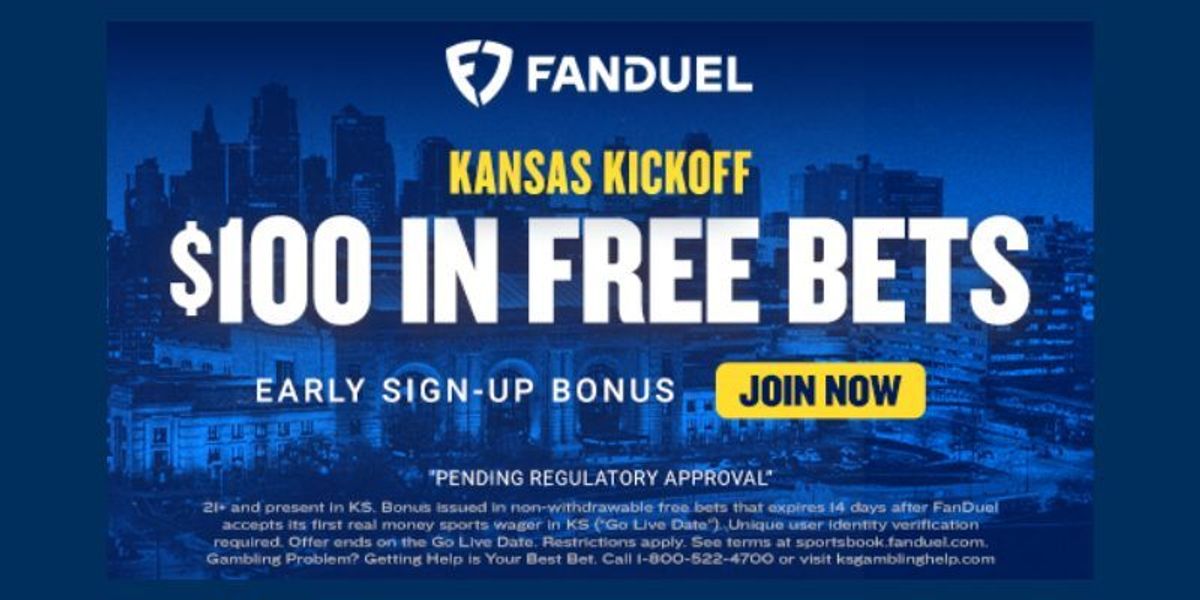 FanDuel Sportsbook Kansas is offering $100 in free bets as part of its pre-launch promotion.
To claim, new users in Kansas only will simply need to register for a FanDuel account from August 4 (Pre-Live launch) to a TBD date (go-live launch). By pre-registering, you'll have $100 in free bets waiting in your account on launch day! Users will have 14 days from the day of launch to use the FanDuel Kansas free bets.
Promo Offer:
$100 in Free Bets on Launch Day
Promo Code:
NONE NEEDED - Just Click Here
Promo Dates:
August 4 – TBD Launch date
Min. Deposit
$10
Eligible States:
KS
T&C
Must be 21+ and only available for users physically located inside the state of Kansas.
Free Bets of $100 are credited at launch. Pre-registration can be done via website and mobile.
About Kansas Pre-Live $100 in Free Bets FanDuel Promo
A partnership with Kansas Star Casino allows FanDuel Sportsbook Kansas to establish a physical location for Kansas bettors, in addition to its app and website. The Kansas Star Casino currently runs a casino in Sumner County, Kansas, and FanDuel is expected to open a retail betting location there.
As of May 12, 2022, the state of Kansas legalized sports betting. The state's sports betting bill SB 84 was passed by the state legislature and signed into law by Governor Laura Kelly.
The state is currently working on facilitating online betting's launch. Betting applications are fielded by the Kansas Lottery, while state gambling rules and regulations are finalized by the Kansas Racing and Gaming Commission.
In addition, when FanDuel Sportsbook goes live in Kansas, users may still claim other welcome offers, such as the "No Sweat First Bet" offer. The sportsbook's top sign-up promo "No Sweat First Bet" offers risk-free bets up to $1,000.
With all these welcome offers, sports enthusiasts can't go wrong with the FanDuel sportsbook.
How to Claim Kansas Pre-Live $100 in Free Bets FanDuel Promo
How to Claim Kansas Pre-Live $100 in Free Bets FanDuel Promo
FanDuel Sportsbook Kansas' pre-launch promotion of $100 in free bets is easy to claim. You can take advantage of this special offer by following these steps.
1

 Head over to FanDuel Sportsbook KS
Click the link on the promo table to go to FanDuel's landing page with the pre-live offer displayed.
2

 Next, fill in the required information.
Users will be taken through the sportsbook verification page to verify their location. FanDuel Kansas will need access to details like the last four digits of your Social Security Number. This is required for all legal betting sites to verify your identity.
3

 Complete the registration.
Once the user registers and verifies, a pop-up will inform them that their $100 in Free Bets will be credited to their sportsbook account on launch day.
FanDuel reimagined the concept of fantasy sports by allowing bettors to compete for real cash prizes in one-day games.
It didn't take long for FanDuel sportsbook, which launched in New Jersey in 2018, to become the top online sportsbook in the United States. It then expanded to Colorado, Illinois, Indiana, and Tennessee in the following months. Most recently, New York and Louisiana went live in January 2022. Currently, FanDuel sports betting platforms are available in 15 states across the US.
Sports bettors can place wagers on their favorite teams all year long using the FanDuel Sportsbook app. Sign up for a free account today, and you can bet on every sport you love.
Cashing out your winnings from FanDuel is as convenient, safe, and secure as it's always been. Whatever you want to wager on, the choice is yours — whether it's live in-game wagering, multiple sports parlays, futures, or anything in between.
When will FanDuel go live in Kansas?
FanDuel Sportsbook is expected to launch in Kansas by fall 2022. A regulatory framework is currently being put in place by the Kansas Racing and Gaming Commission and Kansas Lottery. Hopefully, this will be completed in time to catch some of the 2022 NFL seasons.
Is there a pre-live promo for FanDuel Kansas?
Yes. The FanDuel Kansas Sportsbook is offering $100 in free bets for new players who pre-register.
Can I bet at FanDuel in Kansas?
FanDuel Kansas does not allow sports betting yet. If you are based in the state, however, you can play Daily Fantasy Games with FanDuel. Kansas is expected to launch retail and online sports betting during the 2022 NFL season.
Can I wager on sports using the FanDuel app in Kansas?
Yes, both iPhone and Android users love the FanDuel sportsbook app, which provides an excellent mobile betting experience. However, users will only be able to access markets and bonuses of FanDuel Kansas through its app when the company obtains a Kansas license that allows it to provide online sports betting.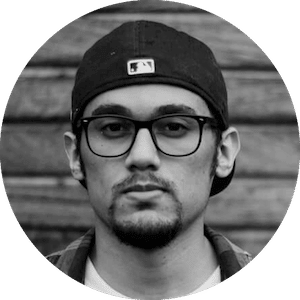 Gus Anderson
Gus Anderson is a gambling wizard. As a kid he dreamt about becoming a Tennis, Hockey and Golf professional but ended up as a gambling professional with focus on both sports & casino.